Neutrogena Rapid Clean Complete Acne Therapy System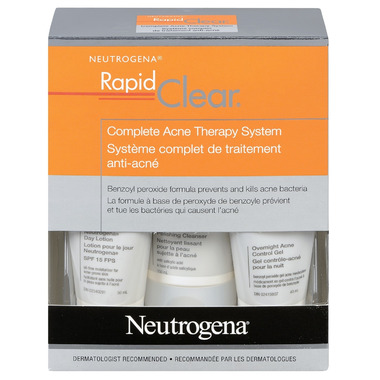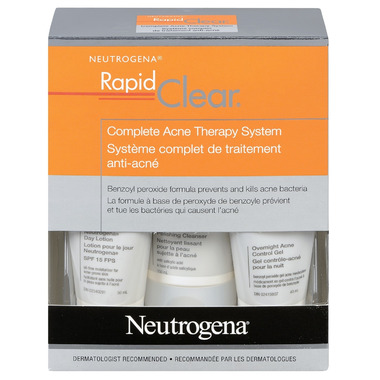 Neutrogena Rapid Clean Complete Acne Therapy System
NEUTROGENA® RAPID CLEAR® Complete Acne Therapy System developed with dermatologists, gives you a combination of products, which work in different ways to care for your skin.
Acne-Prone Skin Polishing Cleanser Contains salicylic acid and microfine beads for deep cleansing and gentle exfoliation of clogged pores.
Overnight Acne Control Lotion Contains benzoyl peroxide to kill acne-causing bacteria to help control and reduce the severity of breakouts and pimples.
NEUTROGENA® Day Lotion SPF 15 Contains moisturizing botanical extracts to help to soothe the feel of dry acne-prone skin and promote healthy-looking complexion. Also contains SPF 15 UV filters to protect skin from the sun's harmful UVA/UVB rays.
Contents:
Cleanser: 150 mL
Night lotion: 40 mL
Day lotion: 50 mL