Neutrogena Rapid Wrinkle Repair Night Moisturizer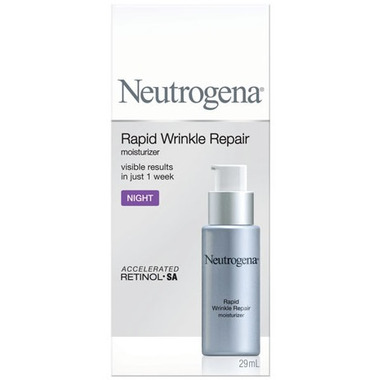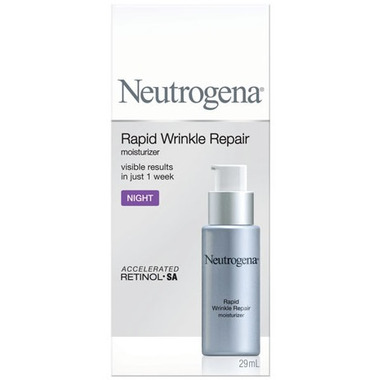 Neutrogena Rapid Wrinkle Repair Night Moisturizer
Accelerated Retinol SA combines the highest concentration of NEUTROGENA® Retinol SA with glucose complex, an exclusive booster, to leave skin feeling smooth and looking younger. It is clinically proven to help: Fade the look of stubborn deep wrinkles, including crow's feet, forehead & cheek wrinkles, brighten skins tone, smooth the look of fine lines and texture.
Mary:
more than a year ago
I have very sensitive skin and always had issues with facial creams, especially night creams. All other night creams I tried were so heavy and made my face feel greasy which I totally hate. Well I am happy to have discovered Rapid Wrinkle Repair. It goes on so smoothly and does not make my skin feel greasy. After using it only for one week my skin is softer, more radiant and my wrinkles are less deep. What an amazing product, I totally love it ! Do not be afraid to spoil your face with luxury, you deserve it !
Elsa:
more than a year ago
The product went on real smooth, I like the texture of it on my skin, it feels real smooth, no other product felt that way, but I have no wrinkles, only puffy eyes, so I can't tell if it works for wrinkles. I am a 71 yr old lady. Tried it on the creases around my mouth, did not work. I guess only Botox will do that, and I don't intend to put poison in my skin. Oh well will live with it.
Come up with an Innovative product to do away with puffy under eyes, every product claim to do that, but it doesn't work. I have tried them all.
Sandra:
more than a year ago
This is the first moisturizer I've used that I've actually noticed a positive reaction to my skin. After only a couple of days, there was more smoothness to my face. Sure, no product is going to get rid of fine lines, despite what they claim, but there sure can be an improvement, and this one delivers. I recommend it.
Page
1