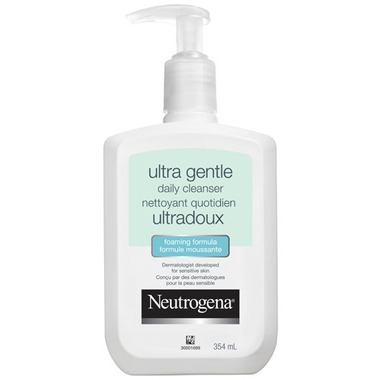 354 mL
Neutrogena Ultra Gentle Daily Cleanser
is rated out of
5
by
163
.
---
Description
NEUTROGENA
®
Ultra Gentle Daily Cleanser thoroughly cleanses without disrupting skin's natural moisture balance. This foaming cleanser works in a new, skin-friendly way to leave you with clean yet naturally soft skin. The non-stripping formula thoroughly removes excess oil, dirt and make-up without over-drying or irritating skin.
Benefits:
Gently cleanses to remove excess oil, dirt and make-up without causing irritation, dryness or tightness
Innovative cleansing technology that protects 99% of your skin's natural moisture
Paraben free, soap-free, dye-free, hypoallergenic and non-comedogenic
Directions: Wet face. Pump cleanser into hands and work into lather. Massage face gently. Rinse.
Rated

5

out of

5
by
GiraffeLove
from
Perfect for sensitive/dry skin!
My skin is extremely dry and sensitive. Even in the summer, it needs an intense moisturizer. I was hesitant to try this product because so often I find "gentle on skin" to actually mean "so delicate, your face will never be clean". Not so with this beauty! My skin doesn't need a moisturizer. I expected more foam out of this foaming cleanser, but the product has a more thick feeling, which I actually ended up liking. The smell is just clean, which is nice - no perfumes or anything harsh. The size of the bottle is great as well! One pump is more than necessary to wash your face, which means it lasts forever! Overall, I highly recommend this face wash if you have dry or sensitive skin. You'll love it!
Date published: 2013-08-19
Rated

5

out of

5
by
BB
from
Fantastic product
This is the best cleaning and make-up removing combo I've come across to date. I dislike creamy cleansers and I also don't like super frothy cleansers. This cleanser turns into the perfect lather and you don't have to rub vigorously for it to do its job. My only criticism is one that's been said already - this product's fragrance is a bit hit and miss. I'm used to the smell now but I have no doubt it would bother other people. If you made this product fragrance-free while keeping the formula intact, I'm sure this would be a hit. (At the same time, I've stuck my nose in the Neutrogena Naturals cleanser and it's stinkier than this one, which was surprising.)
Date published: 2015-02-06
Rated

5

out of

5
by
buddy77
from
The best face wash I have ever used
I have tried so many (around 20-25) different face washes over the years, and I have found that this one is by far the best! I have combination skin, and I find that with this face wash my forehead is not shiny or oily, and my cheeks are not dry. The small bumps along my jawline have also disappeared. My skin is a lot more smooth. I will always buy this face wash from now on.
Date published: 2013-07-01
Rated

5

out of

5
by
Safi25
from
My go to cleanser!
NEUTROGENA Ultra Gentle Daily Cleanser is truely my Holy grail product. I have the most sensitive skin, I've tried using high end department brands which left me with the worst reactions. I came across Neurtrogena gentle cleanser on a wim and needless to say I wont look back I trust the brand and every product I try is fantastic. If you have senstive skin dont hesitate! Grab this guy!. You get bang for your buck too!.
Date published: 2013-08-01
Rated

1

out of

5
by
inggonz
from
thus product has bad features
I bought this product because I have very sensitive skin.I also have olily skin I was looking for something of everyday so I bought this by the 3rd day it completly broke me out my face was very dry and flaky. I'm very disappointed. Not recommend this product.
Date published: 2013-12-12
Rated

5

out of

5
by
susan72
from
skin that's soft and supple
The Neutrogena Ultra Gentle Daily Cleanser Foaming Formula is the best daily cleanser that I've tried in a long time. It made my skin smoother and clearer after the first use. The amount of product needed to cleanse and refresh make it a great addition to your daily routine. My skin hasn't looked this good in a long time. Finally something that truly works!
Date published: 2013-07-11
Rated

4

out of

5
by
morriyum
from
Effective and gentle!
I LOVE this stuff. It's the only cleanser I've found that is genuinely both effective and gentle. I usually either wind up with skin that feels greasy or tight but this cleanser hits the spot between refreshing and gentle. It costs more than other Neutrogena cleansers but it also comes in a huge bottle and you only need a tiny dab. For a product that bills itself as ultra gentle it does have a fairly strong fragrance (I think it's the same one in the acne cleanser, it smells very familiar). It doesn't bother me at all but if you are very sensitive to fragrances it might be a problem. Anyway when I finally do finish a bottle of this stuff I have every intention of repurchasing it because it makes my skin feel great.
Date published: 2013-03-23
Rated

5

out of

5
by
Anonymous
from
excellent product
I have super sensitive skin. This product has been wonderful. I work with spray cleaners and since I changed to this product a month ago, my face is clean and not breaking out. I love it!
Date published: 2015-02-24