Nivea
Nivea Men Cool Kick 24H Fresh Effect Shower Gel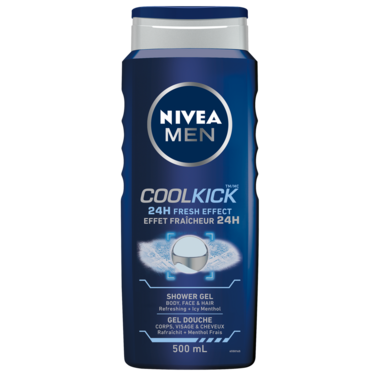 Nivea
Nivea Men Cool Kick 24H Fresh Effect Shower Gel
500 mL
Nivea Men Cool Kick 24H Fresh Effect Shower Gel
is rated out of
5
by
49
.
---
Description
Experience a cooling shower sensation with NIVEA MEN Cool Kick Shower Gel. With a cool scent of icy menthol, our caring formula provides the skin with long-lasting freshness while cleansing, leaving it feeling revitalised and cared for.

Product Features:
Provides long-lasting freshness
Leaves skin and hair feeling revitalized and hydrated
Dermatologically tested


Features
Provides long-lasting freshness Leaves skin and hair feeling revitalized and hydrated Dermatologically tested
Rated

4

out of

5
by
John40
from
Love the cooling effect
I am normally a bar of soap kind of guy, but I was quite interested in the fact that the Nivea Men CoolKick body wash seemed to do it all (body, face and hair). I'm always in a hurry in the morning so this seemed to me like a product that would save me some time. When I first tried it, I couldn't feel the cooling effect, but I still enjoyed the icy menthol sent and I quite enjoyed using it. Once a got out of the shower, that's when I noticed the cooling effect. My skin felt almost tingly, in a good way. The body wash left my face and my body feeling well moisturized, but not greasy. Overall this a great product and I highly recommend it. #freeproduct
Date published: 2022-06-26
Rated

3

out of

5
by
YYFamily
from
strong masculine scent
I received this #freeproduct of Nivea Men Power Fresh 24H Fresh Effect Shower Gel. My husband is up on his feet all day, either working on home renovation or chasing after our toddler. He can easily work up a sweat. He says this shower gel leaves a cooling sensation which is great for morning showers but he normally showers before bed and would prefer something a lot less subtle. This would be a better option for those who sweat a lot at night and shower in the morning. It also has a strong cologne scent so if you like smelling good throughout the day, this would be a good option too.
Date published: 2022-06-30
Rated

4

out of

5
by
Anonymous
from
Good for body, maybe not hair :)
I received the Nivea Men Cool Kick 24H Fresh Effect Shower Gel for free from Topbox Circle in return for a honest review. I used the gel on my body, hair and face, but would only recommend using it on the body. I noticed that it dried out my hair and face, though I am a dry person so keep that in mind. For a body wash, it does that well and the menthol does give a slight fresh feeling thats pretty good during the summer. The scent is light to me, but the wife doesn't like the scent right out of the bottle, but is fine with it after the shower. Lathers like a normal body wash. Overall, I would buy it during the summers for the body, and maybe try something else for hair and face. #freeproduct#trywithtopbox
Date published: 2022-06-11
Rated

5

out of

5
by
nknk20202
from
Super fresh and long lasting smell!
Got this #freeproduct from #trywithtopbox! I love Nivea products, so I was excited. The smell is so refreshing and clean, and lathered up really nice. Its a gel like consistency but my skin felt so clean as if it had been exfoliated. Really big body wash and easy to squeeze out of the bottle- I have weak hands and some of these big stiff plastic bottles get impossible to use when you start to reach the end. Its a big selling point for me. The product itself is A+ and will definitely rebuy in other scents to give them a try, but I loved this one.
Date published: 2022-06-26
Rated

5

out of

5
by
JD123
from
Love it!!!
I really enjoyed testing out this Nivea Men Coolkick 24hr Effect shower gel thanks to Topbox circle and Nivea for sending it to me to test out absolutely free. I think I can officially say that I have found my new go to body wash. I have really enjoyed it so far and have found that it makes me feel super clean and smelling great. I find the scent more fresh than being overpowering. I do also like that's it's a three in one but prefer mostly using it as a body wash. But it's great for when you need a quick shower and can get in and out fast. It creates a nice lather and does make the skin feeling refreshed and clean after use. I look forward to continuing to purchase this product, and would recommend it to anyone interested. #gotitfree #trywithtopbox #freeproduct
Date published: 2022-06-24
Rated

5

out of

5
by
Prairielife204
from
Cool Kick!
This Nivea Men Cool Kick 24-hour Fresh Effect- Shower gel, Body wash, For & Hair is amazing! I love the refreshing smell of the icy menthol leaves and how the product leaves my skin feeling on the skin refreshed! -No phthalates -Paraben free -Plant derived ingredients Thanks to Topbox Circle and Nivea for giving me the opportunity to try this product in exchange for an honest review. I'm always satisfied with the products Nivea has made to care for my skin and the planet!
Date published: 2022-06-04
Rated

5

out of

5
by
DarLi
from
Great shower gel!
We received this product from toolbox circle. My fiance used it the same night after working all day on a renovation project. He said it smells great and it helped him wake up. (usually after work he is tired and ready for bed). It felt very refreshing after being sweaty all day as well. The only negative thing he said was that it didn't lather very well. Other than that it was great!! From a woman's perspective I can attest to the fact that it smells terrific!
Date published: 2022-06-06
Rated

4

out of

5
by
Rosalia
from
Nice shower gel!
I received the Nivea Men Cool Kick 24H Fresh Effect Shower Gel for free from Topbox in exchange for my honest review. This Nivea Cool Kick Shower Gel is a multi-purpose shower product that can be used for the body, face, and hair. I did test it out on all 3 areas, but I personally like to use it as a regular body wash. I wouldn't use it to replace normal shampoo, but I would use it on my hair if I was taking a quick shower before bed. The consistency is a little thinner than other products I've used, but it creates a decent lather and rinses off easily. It leaves the skin feeling clean and refreshed. It has a really nice scent that I enjoyed, and was not overpowering. I would purchase this product again as well as recommend to others. #GotItFree #FreeProduct #ad #topbox #trywithtopbox #topboxcircle #nivea #bodywash #coolkick
Date published: 2022-06-07