Nivea
Nivea Pearly Shine Lip Care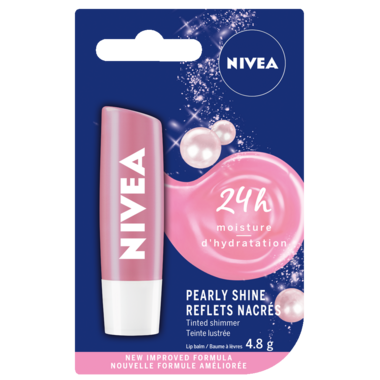 Nivea
Nivea Pearly Shine Lip Care
4.8 g
Nivea Pearly Shine Lip Care
is rated out of
5
by
59
.
---
Description
NIVEA Pearl & Shine lip balm provides long-lasting moisture to soften and condition lips, leaving your lips more beautiful than ever. The unique formula enriched with pearl and silk extracts, shea butter and natural avocado and jojoba oils instantly melts into your lips and keeps them moisturized for 24 hours*. Enjoy beautiful shimmery and pleasantly soft lips! *clinically tested
Features:

Leaves your lips irresistibly smooth
Protects lips against dryness
Brings out the natural beauty of lips with a pearly shimmer
Contains Pearl and Silk Extracts
Dermatologically tested
Rated

2

out of

5
by
T.E.
from
Not My Style
The Nivea Pearly Shine lip balm is okay but I'm not a big fan. For one, it says 24 hours but that's never really going to work unless you don't eat or drink anything during that time. It may very well last 24 hours but I'm not willing to test that out. Worse than that, though, it's not the greatest colour for most people. It's very light and throws me back to the early 90's when people wore that frosted-pink lipstick all the time. Or concealer. It's not the worst, but not the best. It's also kind of tastes like lipstick. I'd definitely go for another lip balm. There's no spf either, which is a big bummer for the summer. *I received this product free in exchange for an honest review.
Date published: 2021-06-10
Rated

3

out of

5
by
Vestalenaa
from
Not my favourite
I received this product for free to review and have been using it for about 1 month. I'm not a particular fan of this product due to the colour payoff. It goes on very light pink and shimmery- very reminiscent of early 2000s makeup. On my particular skin and lip tone, it's not the best. It also has a pretty prominent flavour of strawberries. The product is not as moisturizing as I like my lip balms to be, but I do find myself reaching for it when nothing else is around. I much prefer the original Nivea balms to the flavoured/pearly shine ones.
Date published: 2021-07-23
Rated

5

out of

5
by
Kimberley W.
from
Beautiful Shine!
I recieved this amazing Pearly Shine Tinted Shimmer Lip Balm free from Influenster in exchange for my honest review. Since the moment I tried thus Balm, I haven't been able to leave home without it. It helps that I love lip balms but this one is beautiful! My lips feel hydrated instantly and the feeling lasts for hours! The gorgeous pearly pink sheen is perfect for summer too. I'm a fan! If you love lip balms as much as I do, I encourage you to give this NIVEA Pearly Shine Lip Balm a try. You won't be disappointed!
Date published: 2021-06-11
Rated

4

out of

5
by
Mary A.
from
Good product
I would still give this a 4pts because of its effectiveness in keeping my lips smooth and moisturized. It does its job in locking in that moisture, helps eliminate the dryness and chapped lips. The packaging is awesome, I love the color very feminine. The only downside that I could think of with product is the sheen color that it gives when you apply it on your lips. For me it doesnt give that nice color, my lips with look so pale. But I like how creamy it feels like during application. I guess that sheen color it gives shows the pearly shine but that just doesnt work for me. But what I actually do is that I layer it with my favorite lip tint or lipstick and that works wonders for me. Not only I keep my lips hydrated but my lips would look so plump because of the shine and creaminess it gives!
Date published: 2021-07-14
Rated

4

out of

5
by
Alannah
from
I like it!
I like this product, it gives a nice shine if you use a very thin layer and keeps my lips hydrated! The only dislike about this is the colour of the product. When I apply the amount of lip balm I would with any other type of lip balm, it gives almost a grey cast to my naturally dark pigmented lips, and can actually highlight the dry patches on my lips. I can avoid this with a very thin layer, but I will have to reapply more often !
Date published: 2021-06-10
Rated

4

out of

5
by
AP
from
This can be GREATER!
I loved that this lip balm was moisturizing for my lips which could get pretty dry sometimes, however i think this product can be even GREATER if there was a more universal shade. The colour made my lips looks quite pale which isn't as flattering, and the shimmer didn't help with the appearance of my lips either. Like I said, I love the product, but i'd like it even more of there was a universal shade.
Date published: 2021-07-27
Rated

3

out of

5
by
Sofiajean
from
Average Balm
Love the packaging, and the pretty pink colour on lid. However, the shine left on the lips is very pale and unnatural for someone like me with pale, small lips. It looks very fake and light. The taste/scent is a little weird - somewhat SPF-like and medicinal, but it's not really that off-putting. The lip balm itself if very moisturizing and softens the lips nicely. Not bad, not great.
Date published: 2020-01-20
Rated

4

out of

5
by
Maddiegrace
from
Okay product.
Received this from Influenster in exchange for an honest review, this lip balm is okay! Price is great, and I've had other shades I really like, however the colour of this one is so unnatural and not flattering at all on my skin! It's too metallic and too much of a cool toned pink for my liking, does hydrate and smooth the lips tho! Would buy again in a different shade.
Date published: 2021-06-23