Nivea
Nivea Q10 Power Anti-Wrinkle and Firming Night Moisturizer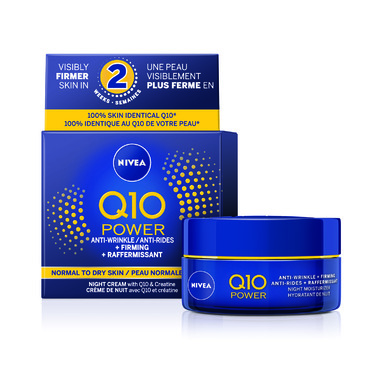 Nivea
Nivea Q10 Power Anti-Wrinkle and Firming Night Moisturizer
Description
NIVEA Q10 POWER ANTI-WRINKLE +FIRMING NIGHT MOISTURIZER combines antioxidant Q10 with 10X more Creatine* to visibly reduce fine lines & wrinkles, leaving skin looking firmer. The intensively caring formula rejuvenates the appearance of skin overnight, when it is the most receptive.
*compared to previous formula"

Product Features:
Visibly boost your skin's own anti-wrinkle power!
New formula for younger looking skinVisibly reduced lines & wrinkles in 4 weeks
Firmer-feeling skin in 2 weeks
Intensively nourished, younger-looking skin
Result:
The look of wrinkles is noticeably reduced and skin is revitalized – for smoother, younger-looking skin.
Features
Visibly boost your skin's own anti-wrinkle power! New formula for younger looking skin Visibly reduced lines & wrinkles in 4 weeks Firmer-feeling skin in 2 weeks Intensively nourished, younger-looking skin