Nivea
Nivea Q10 + Vitamin C Firming Body Lotion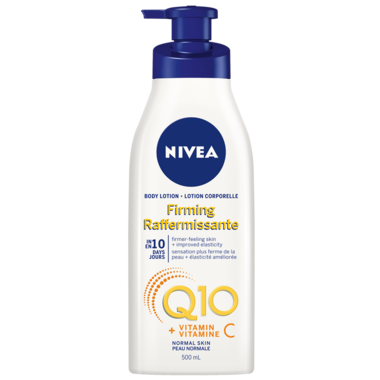 Nivea
Nivea Q10 + Vitamin C Firming Body Lotion
473 mL
Nivea Q10 + Vitamin C Firming Body Lotion
is rated out of
5
by
67
.
---
Description
What It Is:
The Q10 + Vitamin C Firming Body Lotion is a daily lotion that provides firmer-feeling skin and improves skin elasticity in as little as 10 days. Its improved antioxidant formula enriched with two powerful antioxidants, Q10 and Vitamin C, offers quick absorption to intensively moisturize the skin for up to 48h.
How to Use:
Apply the lotion daily in the morning and evening all over your body.
Features:
Firmer-feeling skin and improved elasticty in 10 days
The quick absorbing lotion intensively moisturizes the skin for up to 48 hours
The lotion is enriched with two powerful antioxidants, Q10 and Vitamin C
Rated

5

out of

5
by
iloveflorida88
from
Dry skin be gone!
I was sent this to review and it could not have come at a more perfect time! I had been doing a lot of deep cleaning, and my hands were extremely dry. So when this showed up at my door, it was a lifesaver! It instantly relieved my dry hands, and didn't leave a greasy residue, as most creams that I've used in the past do. It has a very pleasant scent, not overpowering at all, just the perfect amount. It is extremely moisturizing, and you only have to use a small amount! I will 100% be purchasing this myself when I run out, it's going to be a staple in my house from now on!
Date published: 2021-07-23
Rated

4

out of

5
by
LESLEY B.
from
Nice light scent, all day moisturizer!
I'm usually quite hesitant to try new body lotions as when I find something I like, I usually stick with it. Well I must say, I'm glad I tried this product. It is super lightweight, I lovebthay about this product. You can't even tell you have it on. The scent is mild but smells clean and fresh, not offensive at all. I use the product all over in mornings after I shower and before I go to bed. I didn't review until using for a few days, but I do notice a difference in my skin. It strangely does look slightly firmer!!! Wow! Try this lotion out, you won't be disappointed!
Date published: 2021-06-15
Rated

4

out of

5
by
LeahClara
from
Perfect consistency!
I received this product complimentary from Influenster in return for my honest review. I honestly really like this body lotion. One thing I especially love about this lotion is the consistency. It is thin enough that it spreads and absorbs very easily, but not so thin that it feels greasy or watery. It's very moisturizing and lightweight, and a little goes a long way! I like that there's not much of a scent either. The pump-bottle is nice too because it prevents the lotion from getting underneath my long nails. I do wish it also had a locking mechanism though, both so that I could more easily bring it with me places and also to prevent the last bit of lotion in the head of the pump from becoming crusty / drying in between uses.
Date published: 2021-07-23
Rated

5

out of

5
by
Ashley B.
from
Free Trial, Now Loved!
I received this product for free to test it out from Influenster. I'm usually VERY picky and only purchase one brand of cream, and it isn't Nivea. So naturally I was reluctant to try this new body lotion, but WOW I'm so happy I did try it. My skin was SO soft and didn't feel greasy at all. Usually lotions from drug stores leave my skin feeling oily and still dry, but this made my hands feel SO soft as well as the rest of my skin I used it on. I will be using this everyday now until the bottle is empty!
Date published: 2021-06-09
Rated

4

out of

5
by
Lindosa
from
Good body cream!
I had the opportunity to try this body cream and I really like it. I use it after taking my shower. My skin feels and look better. It moisturizes well and you can feel your skin more firm. It has a very subtil smell. It doesn't leave my skin sticky. However, I prefet to use it on the days tjat I know I will not be doing many activities outside ( walking, jogging, etc). I feel than my body sweats more. I would say that for indoor days and winter this cream is perfect. I highly recommend it. Thanks.
Date published: 2021-06-27
Rated

3

out of

5
by
A
from
Softens skin
I purchased the firming body lotion 3 weeks ago. It definitely moisturizes. I have not noticed the firming, but I will keep using it and see if I notice different results.
Date published: 2020-04-01
Rated

5

out of

5
by
stephanie (.
from
AFTER MORE THAN 14 DAYS OF TESTING, The skin of my body, is more SOFTER, FIRMER and ELASTIC to touch.
The skin of my body is usually normal to dry. TRIAL: For more than 14 days = NIVEA FIRMING BODY LOTION Q10 + VITAMIN. USING THE LOTION : Morning and evening, I applied it, it is light, white, non-sticky it absorbs quickly. EFFECT: My skin is softer, firmer and elastic to the touch. LONG-LASTING HYDRATION after a few days: only one application and my skin remained hydrated until the next day. ANTI- AGING FORMULA: : Thanks to antioxidants = vitamin C and coenzyme Q10. I enjoyed finding out that All NIVEA products come from a passion for innovation and more than a century of experience in the field of dermatological research ... Conclusion: I am very satisfied with the product for its quality and effectiveness, and I recommend this: NIVEA FIRMING BODY LOTION Q10 + VITAMIN My only suggestion: a fruity scent for lotion
Date published: 2021-07-02
Rated

5

out of

5
by
MarySR
from
My skin feels great!!
I received this product complementary from Influenster. I'm at this age where I have to retain whatever "youth" I have left in my skin :). Let me tell you, that this product is great! I feel more smoother and softer all over. I think the 10 days is the mark where I saw and felt a difference. This product I will for sure keep it up. I'm actually excited to see what else my skin will look like over a longer period of time. I totally recommend this.
Date published: 2021-06-23