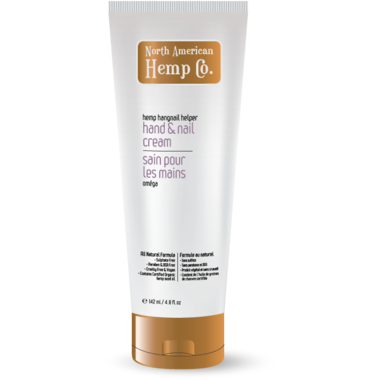 50 mL
North American Hemp Co. Hemp Hangnail Helper Hand and Nail Cream
is rated out of
5
by
8
.
---
Description
Your harsh hangnails, splitting nails and broken manicures are a thing of the past. This hand cream's soothing vitamin A & E soften your cracking skin dry from indoor heating in winter and from summer sun, improving skin moisture content and elasticity in 2 weeks. Your nail beds are drenched in the carotene, calcium and keratin rich nourishing formula that repairs and strengthens nails and cuticles.

Directions: Smooth over hands morning and evening, massaging into the nail and cuticle areas. Reapply after hand-washing or any time your hands feel itchy or dry.
Ingredients: Aqua, Cannabis Sativa (Hemp) Seed Oil Caprylic/Capric triglyceride, Butylene Glycol, Glycerin, Sesame (Sesamum indicum) oil, Shea butter (Butyrospermum parkii), Cetyl Alcohol, Glyceryl Stearate, Cetrearyl alcohol, Ceteareth-20, Sorbitan stearate, Sunflower (Helianthus annuus) oil, Safflower (Carthamus tinctorius) oil, Sodium Hyaluronate, Acrylates/ C10-30 Alkyl Acrylate Crosspolymer, Natural Flavour, Hydrolyzed Soy Protein, Keratin, Hydrolyzed Keratin, Tocopheryl Acetate, Retinyl Palmitate, Potassium Sorbate, Sodium Benzoate, Caprylyl Glycol

Highlights

Rated

5

out of

5
by
Tammy
from
Since I am currently working as a childcare provider, I wash my hands a lot. This has caused them to begin to feel dry. I've tried a lot of other creams but since I have allergies and my skin is sensitive it has been difficult to find something that works and isn't irritating to m skin. I have had no issues with this product so far and its worked great. My nails also tend to flake as they grow and this has helped reduce that.
Date published: 2018-05-10
Rated

4

out of

5
by
HealthcareLady
from
Nice-feeling and smelling hand cream
My hands and nails feel much better after only a week. I use it before bed and the calm scent helps me relax.
Date published: 2021-06-07
Rated

4

out of

5
by
Melissa
from
I bought this cream because I have VERY soft and brittle nails which peel and bend/break easily. Not only have my nails stopped peeling but they grow much faster. My nails are still a bit soft and my hangnails have not decreased but I don't use the cream as often as recommended because I sometimes forget to put it on. The scent is fantastic!
Date published: 2017-05-10
Rated

5

out of

5
by
phyllis
from
I think this cream is amazing. It has a fresh scent that is pleasant & not strong at all. My nails & cuticles appear moisturized & stronger.
Date published: 2018-05-05
Rated

5

out of

5
by
veronica
from
I use this product for dermatitis on my hands, I have only used it a short time but my hands have improved remarkably.
Date published: 2015-11-09
Rated

5

out of

5
by
Kathy
from
This is a terrific product. It truly heals hangnails and absorbs well into the skin. I totally recommend it.
Date published: 2012-10-02
Rated

5

out of

5
by
Erin
from
I have very brittle nails and so far since using this cream my nails have not broken or become brittle
Date published: 2011-08-03
Rated

5

out of

5
by
Denise
from
another great product especially if you get very dry hangnails
Date published: 2019-01-08