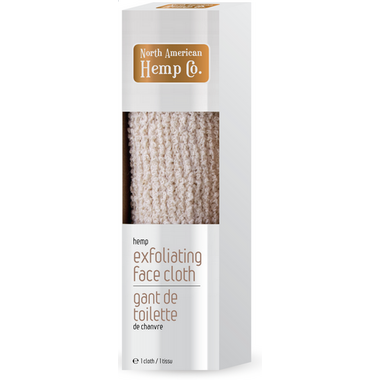 North American Hemp Co. Hemp Exfoliating Face Cloth
is rated out of
5
by
40
.
---
Description
For centuries, hemp has been the fibre of choice for strength and softness. This cloth is made from 100% Certified Organic Hemp Fibres. It brings superior exfoliating ability to reveal newer more radiant skin cells without hyper-abrasion or overly irritating the delicate skin on your face which can cause dryness and sensitivity to sunlight.

Use in combination with Face Off Face wash to optimise the exfoliation and cleansing results.
Ingredients: 100% Hemp fibers

Highlights

Rated

5

out of

5
by
Margie
from
I had purchased this cloth previously and wanted to get more to give as Christmas gifts. It is absolutely amazing. I am 67 years old, and it makes my skin glow. I use it morning and evening and wash carefully using circle motions, and then rinse off. My skin feels like new. I still suffer from breakouts, yes, even at my age, and since getting this cloth the breakouts have been so few and much smaller. It is great!!!!
Date published: 2016-09-01
Rated

5

out of

5
by
Brianne
from
I really love that this exfoliating cloth is 100% organic hemp and has no fillers, additives or dyes. It does a great job of exfoliating on both body and face, but I mainly use this with my oil cleanser on my face two to three times a week (and a softer hemp cloth on the other days). It can be abrasive if you apply too much pressure but if you're using this cloth gently, it's a great addition to a cleansing routine!
Date published: 2017-04-05
Rated

4

out of

5
by
Jolie
from
Bought 4 of these to use as facecloths in the shower. They work great! They are much smaller than a standard washcloth, and they come with a bit of a toxic/factory smell but it disappears after washing. Value wise, definitely shop around!
Date published: 2019-07-14
Rated

4

out of

5
by
Danielle
from
It's hard to find hemp washcloths and these are perfect. They aren't too rough and so far they seem to be antibacterial and not get smelly. I bought 4 when they went on sale. Will probably purchase more if they go on sale again.
Date published: 2019-10-26
Rated

4

out of

5
by
1d
from
Face cloth?
This is a great wash cloth for my body but too rough for my face. It would be nice if it had a loop on a corner to hang to dry.
Date published: 2020-03-25
Rated

4

out of

5
by
Amberly
from
I've been on the look out for a good physical exfoliator, especially for my skin, and this cloth is pretty good, especially since it's made from organic hemp. I use it gently on my face and more thoroughly on my arms and legs, and it seems to be doing the job so far. I like that it's easy to clean and dry as well.
Date published: 2017-04-14
Rated

5

out of

5
by
Brenda Anne
from
This is a great exfoliating face cloth and exactly what I have been looking for. Use it with the North American Hemp Exfoliating Face Wash and see your face shine. Just be careful not to get to carried away, scrub very gently!
Date published: 2017-03-28
Rated

5

out of

5
by
Dhuoda
from
I personally don't use it on my face, but it does a superior exfoliating job all over my body, with or without soap..... Highly recommended for a great invigorating morning massage and baby- soft skin....
Date published: 2015-07-04