North American Hemp Co. Linoleic Line Lifting Face Cream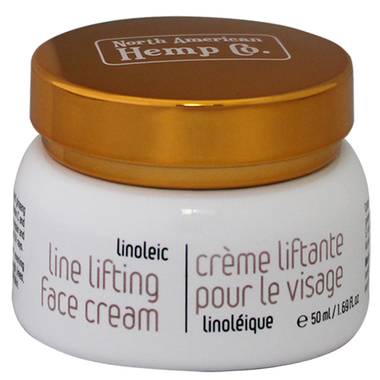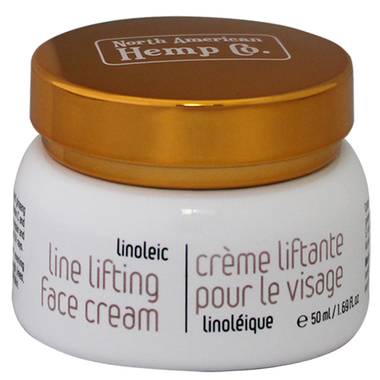 North American Hemp Co. Linoleic Line Lifting Face Cream
This soothing hydrating emulsion of natural green tea and ginseng extracts absorbs quickly into your skin. Its antioxidant vitamin C and E, linoleic Acid (Omega 6) and Omega fatty acids 3 & 9 repair and nourish skin exposed to daily aggression from pollution and UV rays. Your skin is immediately firmer, more elastic and 4X more hydrated for up to 24 hours, leaving your skin more radiant and younger looking.

Ingredients: Aqua, Caprylic/Capric triglyceride, Glycerin, Shea butter (Butyrospermum parkii), Stearic acid, C12-15 Alkyl Benzoate, Glyceryl Stearate, Cetrearyl alcohol, Ceteareth-20, Cannabis Sativa (Hemp) Seed Oil, Olea europaea (Olive) fruit oil, Sesame (Sesamum indicum) oil Acrylates/C10-30 alkyl acrylate crosspolymer, Sodium Hyaluronate, Grape (Vitis Vinifera) Seed Extract, Green Tea (Camellia Sinensis) Extract Ginseng (Panax Ginseng) Extract, Chamomile (Anthemis Nobilis) Extract, Algae Extract, Bearberry (Arctostaphylos Uva-Ursi) Extract Coneflower (Echinacea Angustifolia) Extract Licorice (Glycyrrhiza Glabra) Extract , Sodium Hydroxide, Potassium Sorbate, Sodium Benzoate, Caprylyl Glycol




Thanda:
a couple of weeks ago
Absolutely LOVE this product! ❤️ I'm in my 30th, I've been using for a year..especially during winter time. I have oily skin but when it gets dry/dehydrated it shows! I A little goes a long way and as soon as I apply all over my face I feel like my skin is very smooth and within 8 hours my skin is no longer dry/dehydrated. It's AMAZING!!! 👌Love the smell too ..what not to like about it?
It's my Miracle Cream so far and glad that it nourishes my skin 😊 Thanks!
Dhuoda:
a few months ago
VERY impressed with this low-key product..... I have to admit I wasn't expecting much from it, but with its pleasantly light and quickly absorbed texture, it is amazingly moisturizing for dry, maturing skins like mine.... Full of great ingredients, made in Canada ...... and a VERY modest price tag....
Michele:
more than a year ago
I am post menopausal and it is difficult to find a face cream that lives up to its' claims. The linoleic line lifting face cream definitely does firm up the skin and I do believe that some of my lines are less noticeable. I can feel this cream feeding the skin as after applying it, my face looks and feels revived and fresh. Also, the moisturizing effects of this cream are long lasting and I'm pleased to be using a product that is chemical free.
Page
1