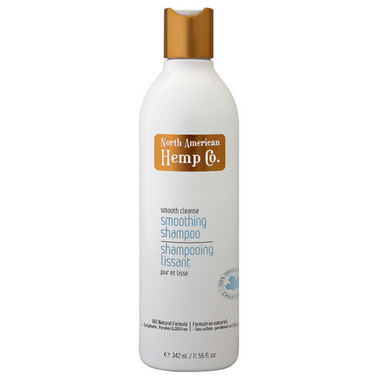 342 mL
North American Hemp Co. Smooth Cleanse Smoothing Shampoo
is rated out of
5
by
18
.
---
Description
Smooth Cleanse smoothing shampoo with pomegranate and grape seed extracts seals your hair's cuticle for dazzling shine. Its unique formula gently cleanses your hair of pollution, styling build-up and urban life over the past 24 hours. Gentle enough for daily use, Smooth Cleanse protects your hair, making it easier to style.

Directions: pour a small amount of product in your palm, emulsify and work through wet hair. Follow with Smooth Seal Conditioner.
Highlights

Rated

5

out of

5
by
Courtney
from
LOVE THIS PRODUCT!!!!! I have tried many natural hair products and I find that they would leave my hair either too dry or too greasy, this one is absolutely perfect!! It leaves my hair soft, silky and shiny. After the first time I tried this product I fell in love and don't use any other hair products since starting to use this one ( been using it about 2 years). The price is a little but expensive, but it does last for a little bit. And the smell is amazing!! It smells like a tropical scent and it definitely my favourite hair product. And the best part is they do not test on animals and do not use sulfates!
Date published: 2015-01-21
Rated

1

out of

5
by
Kat
from
Do not recommend
Bought this for my daughters who have curly/coarse hair because of all the positive reviews. They used it once and refused to use it again because it made their hair tangley. I tried it on my straight/fine hair and it also dried out my hair. Ended up throwing out an almost full bottle. Probably one of the worst shampoos I've tried. Worse than drugstore shampoo. Would not recommend.
Date published: 2023-03-21
Rated

5

out of

5
by
shiloh
from
I have problems with finding suitable shampoos and conditioners for my hair. I have fine hair and even the most expensive shampoos dont necessarily work for me. My problem usually is that they are too heavy and add too much build up to my hair. I am very happy with this shampoo. My husband noticed the difference too and i didnt even tell him that i had switched! Wonderful product!
Date published: 2012-06-08
Rated

5

out of

5
by
Ramona
from
This is a really great shampoo! I've never found a shampoo where a little actually goes a long way. Smells great. I love the conditioner too! I have lots of long hair, and this stuff makes it easy to comb through after. I've tried lots of natural shampoos and now that I found this one I'm going to stick with it.
Date published: 2015-11-23
Rated

5

out of

5
by
Maloney
from
Favorite shampoo ever. No idea what Heather's talking about, it's thick and amazing. Rinses out easily, no greasy hair feeling. My hair always looks good when it dries, then it's easy to style. Oh and it smells like grapes & bananas, not pinapple.
Date published: 2013-11-18
Rated

5

out of

5
by
Lindsey
from
My new favourite shampoo! It leaves my hair soft and manageable and it doesn't get greasy as quickly. I was hesitant to get it as I've had dubious experience with natural shampoos in the past, but it's a great buy.
Date published: 2018-08-26
Rated

5

out of

5
by
Nicole
from
Great shampoo! Love the smell (reminds me of a tropical drink!) and leaves my fine hair feeling clean and light. Have tried many natural shampoos and have finally found one I will be buying again.
Date published: 2014-06-09
Rated

5

out of

5
by
Isabella
from
I love this shampoo. I've been using it for a couple of weeks. It doesn't leave my hair oily like other natural shampoos do. The scent is subtle. I've already purchased another bottle!
Date published: 2019-07-23