North Coast Naturals Vege PRO-7 Chocolate Protein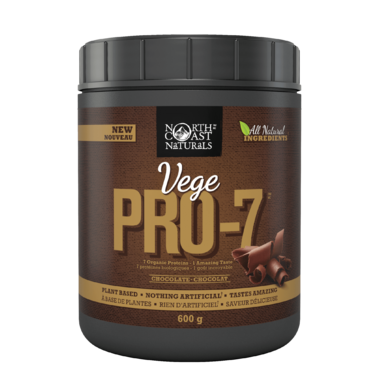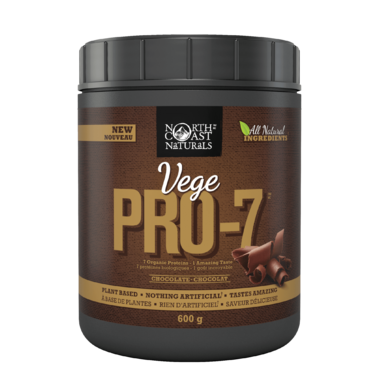 North Coast Naturals Vege PRO-7 Chocolate Protein
North Coast Naturals Vege PRO-7 has been specially formulated with 7 organic proteins, 1 amazing taste and nothing artificial. It features super foods like organic bio-fermented whole grain brown rice, organic sprouted chia, organic Canadian hemp protein, organic pumpkin seed and other nutrient-dense proteins.
It's everything you're looking for in a plant-based protein supplement with no added artificial colours, sweeteners or flavours. Vege PRO-7 is also formulated without wheat, soy, dairy, egg, gluten or pea making it more easily digestible and suitable for men and women of all ages. It's made from only natural whole food ingredients that you can feel good about enjoying on a daily basis.
The 7 Organic Plant Based Proteins:
1. Organic, Bio-Fermented, Sprouted Raw Whole Grain Brown Rice Protein
2. Organic Canadian Hemp Seed Protein
3. Organic Chia Seed Protein
4. Organic Sprouted Quinoa Protein
5. Organic Coconut Protein
6. Organic Alfalfa Protein
7. Organic Pumpkin Seed Protein

Vege PRO-7's Unique Features:
100% vegetarian proteins from 7 organic, plant-based sources
All natural — nothing artificial
Providing 20 g of high-quality protein per serving
Formulated without dairy, soy, pea or gluten
Amino acid balanced
Contains all 9 essential amino acids
Getting enough protein is always a concern when you're not consuming animal products. Vege PRO-7 takes out the guesswork and offers a delicious solution for anyone looking to add more protein to their diet. Developed to provide a clean source of fuel for those who want to eat vegetarian, avoid common food allergies or with other dietary restrictions, making it simple to get the nutrition you need. Not only that, it tastes so good you'll actually look forward to drinking it every single time!





Kristi:
a few days ago
After trying the vanilla powder, I bought chocolate as well. Now, I alternate between the two of them, they are both excellent. I may actually prefer vanilla, but this is just personal preference. I use them in a ball shaker for quick on the go breakfast (and they are very tasty this way). If you add it to a vitamix, you will literally not be able to detect there's a protein powder in it at all. Sooo smooth and creamy. This brand blows away all the other vegan powders I've been using (which all tend to be at least a little bit gritty/chalky). I don't think I need to experiment any more. This vegan powder is perfect. Well worth a try if you're looking to get extra protein in your diet or after a work out, but have struggled with finding a tasty smooth option in the past.
Page
1