NOVA Probiotics Animal Advanced Age 6 Billion CFU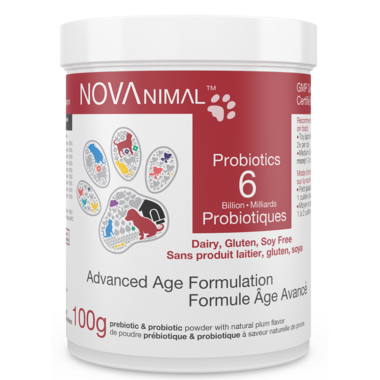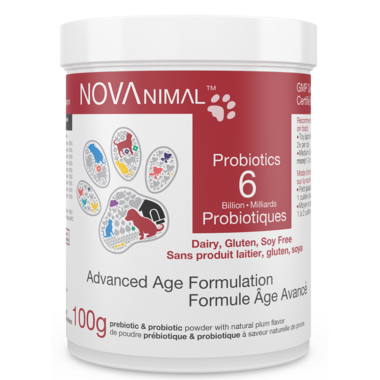 NOVA Probiotics Animal Advanced Age 6 Billion CFU
NOVAnimal Advanced Age is a unique combination of pre- and probiotics specially formulated for senior dogs and cats to help restore and maintain healthy intestinal balance, thus supporting digestive and overall health.
Features:
Each canister comes with a pre-measured scoop inside
Provides 6 Billion CFU per scoop (60 servings total)
9 probiotic strains appropriate for dogs and cats
Added with 5% chicory inulin (prebiotic) to nourish the growth of the probiotic microorganisms and enhance their effects
Targeted delivery system
No refrigeration required
Directions:
Use daily for general wellbeing. Adjust dosage and frequency as needed or as recommended by your veterinarian. Recommended dose (Sprinkle on your pet's food before serving): Toy (up to 10 lbs): 1 scoop, twice a day.
Medium & Large (10 lbs and more): 1-2 scoops, twice a day.
Ingredients:9 Medicinal Strains:
Lactobacillus rhamnosus, Lactobacillus rhamnosus, Lactobacillus plantarum, Lactobacillus reuteri, Lactobacillus paracasei, Lactobacillus casei, Lactobacillus acidophilus, Bifidobacterium longum subsp. longum, Bifidobacteria animalis subsp. lactis.
Non-Medicinal Ingredients:
Inulin (Prebiotic), Non-GMO Maltodextrin, Vegetal magnesium stearate, Ascorbic acid, Natural plum powder.
All ingredients are NON-GMO and ALLERGEN FREE.
NOVA Probiotics guarantees that only the ingredients listed on the label have gone in to this product. Contains NO Dairy, soy, gluten, wheat, nuts, peanut, egg, fish or shellfish, hormones, antibiotic traces, GMO, pesticides or heavy metals.
Caution:
If your pet is on antibiotic(s), give at least 2-3 hours before or after.







Cindy:
a few months ago
I much prefer this over my previous feline probiotic mostly due to the reduced packaging and convenient measuring scoop. My cat may not be as pleased as I am, however. He doesn't seem to keen on the Plum flavour. haha Not sure why they would flavour it at all. It seems to be working wonderfully for him. I simply make sure I add it to the meal he's most hungry for to ensure he actually eats it all.
Sophia:
a few months ago
My cat, GG, is a 17 years old cat living with pancreatitis / pancreatic cancer. While the vet recently started her on a steroid treatment to reduce the mass, I started adding this probiotics into the blended (and sieved) homemade chicken breast congee "liquid" food and spoon fed to her. I wish they make a tasteless version instead of vanilla. I have been feeding her canned food in the past, and should have added probiotics in her regular diet.
1