Nova Scotia Fisherman Forest Charcoal Soap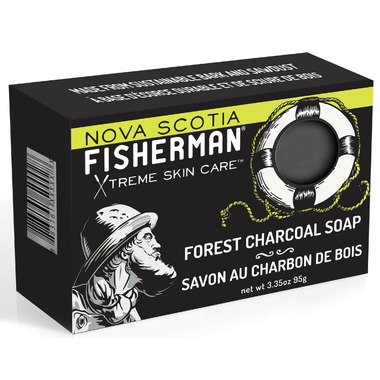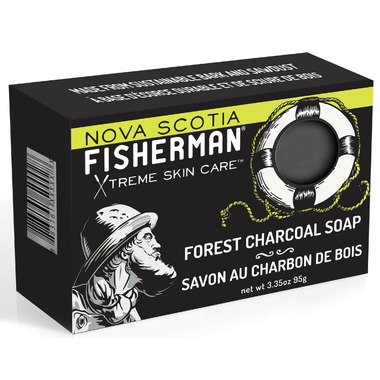 Nova Scotia Fisherman Forest Charcoal Soap
Nova Scotia Fisherman Forest Charcoal Soap is a 100% natural, hand poured soap made with charcoal. Why use a charcoal soap? One teaspoon of charcoal powder (about 3.3 grams) has about the same surface area as a football field. This tremendous surface area translates into a tremendous potential to adsorb (acts like a molecular sponge) large amounts of toxins, poisons, or pollutants. In the case of your face, grease and grime are attracted and trapped by charcoal, essentially helping you detoxify your skin. Charcoal is known to work well on acne prone skin and will gently exfoliate and clear up your skin. Its scent of patchouli, lavender and sweet orange will leave you feeling clean and refreshed
While common charcoals are produced using coal, peat, and coconut shells, Nova Scotia Fisherman sources their Bio Charcoal form BioEneregy Inc. and Cape Breton University. They have created a charcoal that requires less energy to produce and uses sustainable forestry waste that creates a charcoal that does not contain nickle and lead like charcoal produced from coal
.
Features:
Hand poured, cold process soap that rejuvenates skin. Vegan too!
No artificial preservatives are added to this soap and all-natural scents are used.
No animal testing, no petroleum based ingredients and paraben free.
Handmade using premium ingredients.
Extreme care for your largest organ: skin!

Ingredients:
Olea Europaea, Elaeis Guineensis, Cocos Nucifera, Aqua, Sodium Hydroxide, Ricinus Communis* ,Glycine Soja Oil*, Butyrospermum Parkii*, Stearic Acid, Fucus Vesiculosus*, Carbon*, Kaolin Clay, Citrus Sinensis, Pogostemon Cabin, Lavandula Officinalis, Tocopherol*,
*Certified Organic