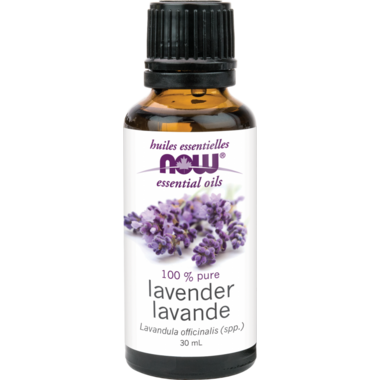 100% Pure
30 mL
NOW Essential Oils Lavender Oil
is rated out of
5
by
370
.
---
Description
NOW Essential Oils Lavender Oil is 100% pure and has a clean, light scent. Its texture makes it one of the most versatile oils. Lavender's soft, calming aroma has made it one of the most popular in the essential oil family. NOW Foods Lavender Oil is steam distilled from fresh flowering tops.

Directions: For aromatherapy use. For all other uses, carefully dilute with a carrier oil such as jojoba, grapeseed, olive, or almond oil prior to use. Please consult an essential oil book or other professional reference source for suggested dilution ratios.

Caution: Keep out of reach of children. Avoid contact with skin or eyes. If pregnant or lactating, consult your healthcare practitioner before using. Natural essential oils are highly concentrated and should be used with care.


Highlights

Features
100% pure Lavandula officinalis (spp.)
Aroma: Floral.
Attributes: Soothing, normalizing, balancing.
Extraction Method: Steam Distilled from fresh flowering tops.
Purity Tested/Quality Assured
Hexane free
Ingredients
Pure lavender oil (Lavandula officinalis (spp)).
Rated

5

out of

5
by
Dani
from
Before I got into essential oils, I loathed the scent of fake lavender. But now that I am surrounded by essential oils, I know now that this gorgeous scent has been so abused over the years. The true essential oil is one of the most beautiful scents we are lucky enough to experience. Everytime I smell it, I think of walking through fields of lavender. It is calming, helpful for sleep and anxiety issue problems, and so centering. I really believe it is the number one essential oil to have in your collection. NOWs Lavender EO is very nice and a very good price. Can't complain. Try it blended with peppermint EO and a carrier oil for the most beautiful, calming massage oil ever.
Date published: 2017-04-22
Rated

5

out of

5
by
Aneesa
from
Lavender oil — I'm sure you've read/heard of this before, but if there is one essential oil you should have in your home, this would be it. There are so many ways to use this oil -- one of my favourite ways is to sprinkle it on my pillow before bed, this is one the most natural things I've tried to help me fall asleep and it actually works! if you get foot cramps, messaging a few drops of this oil neat on your skin really does help the pain/numb feeling go away. Also, great to use neat if you get cuts and insect bites, the list goes on….
Date published: 2014-06-26
Rated

3

out of

5
by
Elisabeth
from
It's a great price but honestly not the best quality. I've tried more expensive brands and I totally notice the difference. With this brand I end up using 2x the amount in my diffuser to get the same result as the more expensive brand. I wanted to love this.
Date published: 2018-02-06
Rated

1

out of

5
by
Christina
from
I think if you are new to essential oils and just looking for a simple scent these are okay, but compared to the better quality oils out there these are very low quality in my opinion. The price is great but the scent lasts no time, and it is not a strong as others. Some of the scents also seem 'off' to me. Since I have been using oils for years this is very obvious to me, but t others experimenting for the first time, they might not notice. These also stained my wool dryer balls more then other oils I have.
Date published: 2018-02-06
Rated

5

out of

5
by
Genis
from
EXCELLENT!!!!!
I bought this to try with my dryer balls. It works GREAT. Love the smell. I decided to try it on strips of cloth in the closets and it works great. Just dab a few drops on a cloth and place it in closets and dresser drawers, under beds, and enjoy a fresher cleaner smelling room and clothing.
Date published: 2020-07-10
Rated

4

out of

5
by
rose expert
from
Good Product
I use it for insect bite, works very well. I work in the garden very often, rather than using chemical products I prefer to use lavender oil.
Date published: 2020-08-31
Rated

5

out of

5
by
Dawn
from
I am an essential oil diva and have researched extensively where to purchase the best essential oils in Canada based on purity, testing and formulation. NOW oils are one the best oils and it is evidenced by their smell, home testing and durability. I love NOW essential oils and would highly recommend them to anyone. They are an excellent, cost effective product as is Aura Cacia and Penny Lane.
Date published: 2018-04-03
Rated

5

out of

5
by
Tracey
from
I recently purchased this as it is so useful for numerous things that i just wanted one item for many possible treatments. I suffer from terrible sinus headaches during allergy season and I have been rubbing the oil on my temples a few times per day and sniffing the bottle for about 5 good whiffs and headaches stays gone for hours. It has worked better than any allergy medication that my doctor has prescribed. Love this stuff and will purchase again.
Date published: 2016-07-21