NOW Essential Oils Organic Rosemary Oil
100% Pure & Certified Organic
30 mL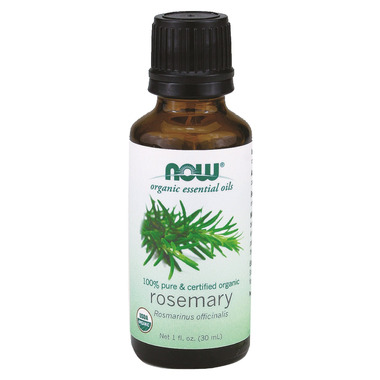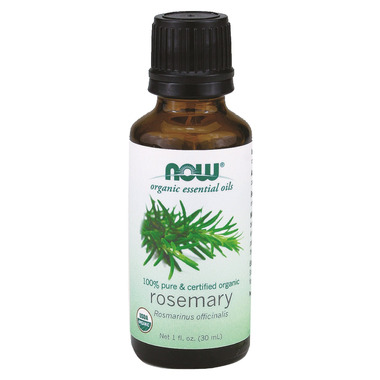 NOW Essential Oils Organic Rosemary Oil
100% Pure & Certified Organic
30 mL
In addition to its mild camphoraceous, uplifting aroma, the natural compounds in rosemary oil contain strong cleansing properties, making it ideal for anyone concerned with Immune System health.
Features:
Rosmarinus officinalis
Certified Organic
Suggested Use:
For aromatherapy use. Mixes well with bergamot oil, lemongrass oil, peppermint oil and thyme oil. For all other uses, carefully dilute with a carrier oil such as jojoba, grapeseed, olive, or almond oil prior to use.
Aroma:
Warm, camphoraceous.
Benefits:
Purifying, renewing, uplifting.

Extraction Method:
Steam Distilled from flowering tops.

Ingredients:
Organic rosemary oil (100% pure).
Caution:
Keep out of reach of children. Avoid contact with skin or eyes. If pregnant or lactating, consult your healthcare practitioner before using.


Cordelia:
a few months ago
I like this product, but I do like the NOW Essential Oils Peppermint Oil better. I mix the two oils together by adding the oil drops to my diffuser. I don't like the scent to be too heavy, so I add five drops of Peppermint and one to two drops of Rosemary. I do this before I go to bed. I wake up in the morning refreshed and ready to start my day. That said, I would purchase this product again and recommend it. : )
Lillian:
more than a year ago
This brand of essential oils is very good, the product is concentrated more than others and is very effective. I read that this oil can be used in an infusion with peppermint oil and white vineger, and 1 cup of water in a mister - spray on the cat/dog fur using a mister and rub in with your hands especially around the belly and feet. This will protect the animal from ticks and other biting insects including fleas. We'll be using this whenever we hike or camp.
Page
1