NOW Foods
NOW Solutions Nutri-Shave Natural Shave Cream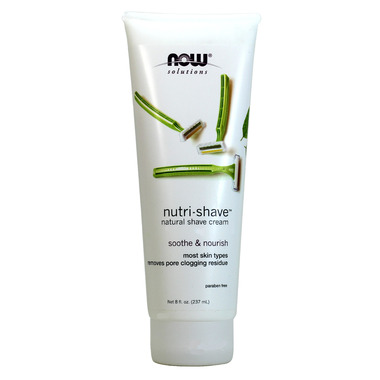 NOW Foods
NOW Solutions Nutri-Shave Natural Shave Cream
Description
Nutri-Shave Natural Cream Shave is suitable for most skin types, removes pore clogging residue and is paraben and gluten free. Perfect for skin in need of relief from razor burn, ingrown hairs, or general skin irritation from normal shaving. Nutri-Shave is a unique skin care product specially formulated to reduce irritation and the occurrence of ingrown hairs that shaving can cause, leaving skin smooth, healthy and well nourished.

NOW Foods has combined the soothing and protective properties of Allantoin with the anti-aging and moisture-retentive properties of Hyaluronic Acid to create a truly effective shave. Nutri-Shave also contains synergistic natural ingredients such as Coconut Oil, Panthenol, Aloe Vera, and Olive Oil for a smooth and invigorating shaving experience. It's formulated for women and men to provide a close shave that comforts your skin.

Suggested Usage:
Wet skin with water, dispense Nutri-Shave into hand, apply liberally to skin, and shave. After shaving rinse thoroughly with warm water. Follow up with your favorite NOW Solutions moisturizer.
Ingredients:
De-ionized Water, Aloe Vera (Aloe barbadensis) Leaf Gel*, Zinc Oxide, Vegetable Glycerin, Sodium Coco Sulfate, Lauryl Glucoside, Hydroxyethyl Cellulose, Citric Acid, Coconut Oil*, Extra Virgin Olive Oil, Allantoin, d-Panthenol, Sodium Hyaluronate (Hyaluronic Acid), Calendula Liquid Extract, Chamomile Liquid Extract, Algae Liquid Extract, Panax Ginseng Liquid Extract, Horsetail (scouring rush) Liquid Extract, Arnica Liquid Extract, d-alpha Tocopherol (Vitamin E) (soy), Magnesium Ascorbyl Phosphate (Vitamin C), Satsuma Orange Aroma, Potassium Sorbate and Cedar Bark Extract. *Certified Organic.
NOW Solutions products are not tested on animals.
Highlights