NOW Solutions Portable USB Ultrasonic Diffuser Gift Set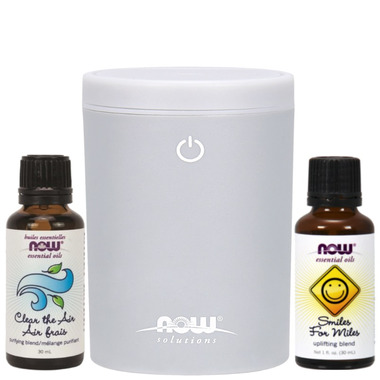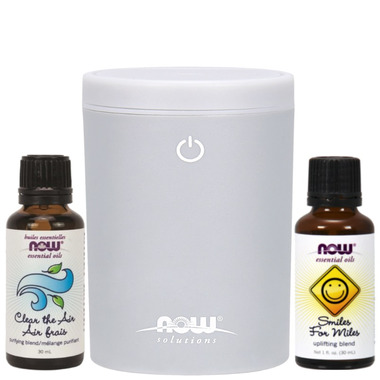 NOW Solutions Portable USB Ultrasonic Diffuser Gift Set
This Set has a full retail value of $115!
With NOW Solutions new Portable USB Ultrasonic Oil Diffuser you can enjoy the benefits of aromatherapy wherever life takes you. This compact little unit can be plugged in to any USB port, making it ideal for the home or office, and is perfectly sized to fit in almost any vehicle beverage holder for portability you just won't find with most other diffusers. With a run time of six hours per fill and a one year warranty, NOW Solutions Portable USB Diffuser is a great complement to any on-the-go lifestyle.
Try it today and receive a duo pack of 30 mL NOW essential oil blends! The Smiles for Miles Blend is uplifting, energizing and refreshing. A mild citrus blend with warm spice notes that will be sure to lift your spirits and refresh your mind. And the Clear the Air Blend is purifying, cleansing, and refreshing. Great for travelers, seasonal use, or whenever you want to clear the air.
Portable USB Ultrasonic Diffuser Features:
Extremely quiet
Easy to clean
Just add tap water and essential oils
Cool steam
No heat involved/no risk of burns
Automatically shuts off
BPA-free
Great for home, office, or travel
Fits in car beverage holder
Includes portable carrying case
1 year warranty
Run life of 5000+ hours
Plugs into any USB port
Run time of up to 6 hours
Dimensions: 5.75 x 5.75 x 3"

Smiles for Miles Ingredients
: Orange Oil, Bergamot Oil, Grapefruit Oil, Lime Oil, Lemon Oil, Natural Vanilla Oil (1% solution in expeller pressed Jojoba Oil), Cinnamon Bark Oil, Nutmeg Oil, Ginger Oil
Clear the Air Ingredients:
Peppermint Oil, Eucalyptus Oil, Hyssop Oil, Rosemary Oil.