NOW Foods
NOW Solutions Vitamin C & Sea Buckthorn Moisturizer
Brightens & Repairs 59 mL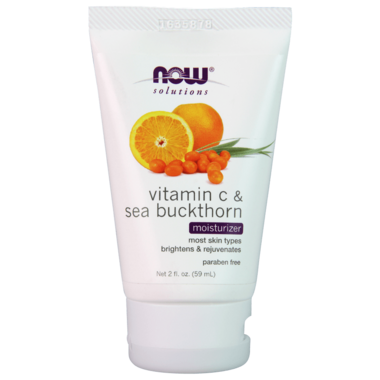 NOW Foods
NOW Solutions Vitamin C & Sea Buckthorn Moisturizer
Brightens & Repairs
59 mL
NOW Solutions Vitamin C and Sea Buckthorn Moisturizer
is rated out of
5
by
32
.
---
Description
NOW Solutions Vitamin C & Sea Buckthorn Moisturizer works with the skin's natural chemistry to help lock in moisture and other vital fluids needed to improve elasticity, brighten dull or dark areas, and promote healthy tissue. Natural Vitamin E helps mend minor flaws and other visible imperfections common to sensitive and combination skin types.
Features:
Great for combination or dry skin with minor colour imbalances, dull appearance, uneven tone, light scarring or imperfections caused by acne or other blemishes
Brightens & Rejuvenates uneven skin in need of additional moisture and brightening
Paraben Free & Gluten Free
NOW Solutions does not test on animals
Directions:
After cleansing your face, gently pat dry and apply a thin, even layer of Vitamin C & Sea Buckthorn Moisturizer to the entire face, paying close attention to problem areas. Use daily for best results

Ingredients:
Water (Aqua), Aloe Barbadensis Leaf Juice*, Caprylic/Capric Triglyceride, Cetyl Alcohol, Glycerin, Glyceryl Stearate SE, Glucose & Lactoperoxidase & Glucose Oxidase (natural preservative), Stearic Acid (vegetable source), Cetearyl Alcohol & Cetearyl Glucoside, Olea Europaea (Olive) Oil (Extra Virgin), Magnesium Ascorbyl Phosphate (Vitamin C), Hippophae Rhamnoides (Sea Buckthorn) Seed Oil, Niacinamide (Niacin), Tocopherol (Vitamin E) (soy), Orange-Grapefruit Aroma, Polyglyceryl-10 Laurate, Potassium Sorbate, Citric Acid.
*Certified Organic
Highlights

Rated

5

out of

5
by
Karen L.
from
Anyway, so far I think I love it. I have used it for about a week now. It did seem to be helping me even out my skintone (amazingly enough, I just wanted something to keep my face moisturized. The Spectro combination moisturizer I used before this just wasn't enough. I also used the Clinique antioxidant night moisturizer... but considering this is less than half the price... and Wells has the amazing free shipping service...) And this is saying something, since I have a few old acne-scars. Bottom line: I'd buy it again. It exceeded my expectations. Also, it seems to me not as thick as Jac says, although it's quite thick, it'll seep into your skin with a little bit of time.
Date published: 2012-01-22
Rated

4

out of

5
by
Michelle
from
This is great! It has got a thick consistency and an orange scent. My skin has been extremely sensitive lately - anything would make it sting - but this one doesn't irritate my skin like my other moisturizers do. Though for helping with my acne scars, I still have yet to see it fade dramatically. Only time will tell!
Date published: 2012-02-25
Rated

5

out of

5
by
Susan
from
Nice, light moisturizer. Smells great and works well for my sensitive skin. You really don't need to use much (a drop about the size of a pencil eraser covers my face). Since I can't find the other brand I used to by from Well, I think I'll buy this one again.
Date published: 2018-06-20
Rated

4

out of

5
by
Megan
from
I really like this. It doesn't break me out or leave me dry. I've been using it about two weeks. I really like the orange smell and so does my boyfriend which is a bonus but I haven't really seen all that much brightening. A good basic moisturizer though
Date published: 2012-04-05
Rated

3

out of

5
by
Jerome
from
Smell is nice & I like the texture. Absorbs quickly & does moisturize. But I only gave it 3 stars because I don't think it's actually done any skin brightening or evened out my skin tone. However, I haven't been able to find a moisturizer that has...
Date published: 2012-01-07
Rated

5

out of

5
by
Teresa
from
Love this .......has a fresh orange scent and is creamy and absorbs very well. I noticed my face was really soft and smooth after a few days of using it . I highly recommend this cream. It has really good ingredients for a fantastic price.
Date published: 2012-04-20
Rated

4

out of

5
by
Carly
from
Such a tiny bottle with a big price. Not the best for day time wear as it leaves my skin a bit greasy. I love this at night though, the smell is great and a little goes a long way. I don't know how long this little guy will last though!
Date published: 2012-11-06
Rated

3

out of

5
by
Randi
from
I like it : I'm sensitive to lots of things but so far , this isn't one of them . I use in combination with another scent free organic cream which cuts the fragrance- which isn't too powerful to begin with. A winner so far:)
Date published: 2018-10-27