NOW Solutions Vitamin D-3 Cream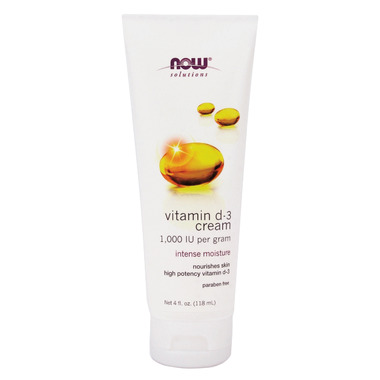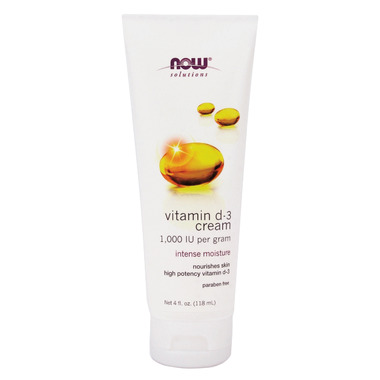 NOW Solutions Vitamin D-3 Cream
Do you have dry skin in need of intense daily moisture?
Vitamin D-3 Cream provides comprehensive moisture renewal through a carefully balanced ratio of beneficial nutrients. A single gram of Vitamin D-3 Cream, equal to a 1/4 teaspoon, includes 1000 IU of Vitamin D-3 (the equivalent of one typical softgel) to help soothe dry, cracked skin, 500 IU of Vitamin A to help rejuvenate your
skin through its antioxidant benefits, and 50 IU of Vitamin E to help gently and naturally renew damaged skin. You get all this in just one application which can help return your skin to its healthy, radiant best.
To keep skin well-nourished, healthy and moisturized, apply 1/4 teaspoon to the skin daily.
Features:
1,000 IU per gram
Intense Moisture
Nourishes Skin
High Potency Vitamin D-3
Paraben Free
Gluten-Free
Ingredients: De-ionized Water, Aloe Vera (Aloe barbadensis) Leaf Gel*, Glyceryl Stearate SE, Shea Butter, d-alpha Tocopherol (Vitamin E), Cetearyl Alcohol/Cetearyl Glucoside, Caprylic/Capric Triglyceride, Aquaxyl™, Vegetable Glycerine, Stearyl Alcohol, Cetearyl Alcohol, Cetyl Alcohol, Cetyl Palmitate, Phospholipids (from soy lecithin), Glucose/Glucose Oxidase/Lactoperoxidase (natural preservative), Betaine Anhydrous (Trimethylglycine) (TMG), Jojoba Oil, Meadowfoam Seed Oil, Cholecalciferol (Vitamin D-3), Sodium Hyaluronate (Hyaluronic Acid), Sodium Ascorbyl Phosphate (Vitamin C), Retinyl Palmitate (Vitamin A), d-Panthenol, Squalane, Satsuma Orange Aroma, Hydroxylated Soy Lecithin, Sclerotium Gum, Potassium Sorbate and Citric Acid. *Certified Organic