NOW Foods
NOW Solutions XyliWhite Cinnafresh Mouthwash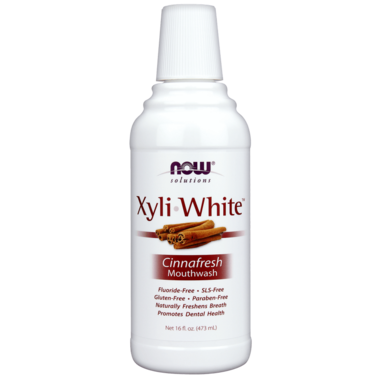 NOW Foods
NOW Solutions XyliWhite Cinnafresh Mouthwash
473 mL
NOW Solutions XyliWhite Cinnafresh Mouthwash
is rated out of
5
by
9
.
---
Description
NOW Solutions XyliWhite Cinnafresh Mouthwash is effective dental care without the use of fluoride. This is an effective fluoride-free oral rinse that works in unique ways to help you achieve a smile that's healthier and brighter than ever before! XyliWhite Mouthwash gets its cleansing properties from xylitol - a naturally occurring sugar alcohol that has been shown in clinical studies to help promote dental health; effectively rinsing debris, such as food particles containing bacteria from mouth surfaces. Xylitol also helps safeguard healthy tooth enamel surfaces. By preventing the mouth's pH levels from falling below their normal range, XyliWhite Mouthwash protects the enamel surface of teeth.
Features:
Natural & Fluoride Free
With Xylitol & Steam-Distilled Essential Oils
Freshens Breath
Cleanses Mouth
Promotes Dental Health
Paraben Free and Gluten Free
Fluoride Free
Directions:
Shake gently before using. It is recommended that you first brush with XyliWhite Whitening Toothpaste and then rinse mouth for at least 30 seconds with XyliWhite Mouthwash.
Ingredients:
De-ionized Water, Organic Aloe Vera Juice, Xylitol, Vegetable Glycerin, Natural Essential Oil Flavour Blend* (Ceylon Cinnamon Bark Oil, Thyme Oil, Tea Tree Oil, Natural Vanilla Flavour, Cassia Oil, Nutmeg Oil, Fennel Oil, Natural Menthol Crystals), Caprylic/Capric Mono-Diglycerides, Lauric Arginate (preservative), Citric Acid and Grapefruit Seed Extract.
*Steam-distilled Essential Oils.
Highlights

Rated

5

out of

5
by
Anne
from
Great flavour! This is one of those products that's apparently good for my teeth but is also so pleasant to use that I wind up using it much more than I had expected. This is a big bonus for me as I tend to skip over or minimize dental care that I find unpleasant. I'm so glad I tried it.
Date published: 2011-10-14
Rated

4

out of

5
by
Chris
from
My favourite is actually the Desert Essence Tea Tree Oil Mouthwash but I'd been using it for so long I wanted to try something else. I can say this is my second-favourite. The cinnamon tastes natural and isn't too strong. I like it. However, it's a little bit more intense than what I'm used to. While I enjoy using it and would buy it again for variety, I'm all about the Desert Essence. Do try it, though... if you're a big fan of cinnamon then this is probably the best one on the market for you.
Date published: 2013-10-17
Rated

4

out of

5
by
Pat
from
Am on my 2nd bottle of this mouthwash and will continue. It works very well with sensitive gums, whitens teeth when used regularly, and I really like the taste. Also, by the way, it's in a purple plastic bottle that would liven up any windowsill. So I tried soaking the label off and what remained was a sticky smear of glue. Hope the packager might decide to do something about this.
Date published: 2014-10-04
Rated

5

out of

5
by
Pam
from
Although still early days on this product I'm so far finding it pleasant to use. I did a lot of research on this and other products containing Xylitol and the long term benefits for teeth and gums so will continue to use. I would recommend anyone who suffers from dental issues to consider using this product. Do your own research and see if this product is for you..
Date published: 2012-02-22
Rated

5

out of

5
by
Steph
from
This is a great mild mouthwash, and it really does keep my teeth looking white. Give it a try if you find regular mouthwash too strong of a flavour. I find I am using this one more regularly...please don't discontinue it!
Date published: 2013-08-19
Rated

5

out of

5
by
Eluveitie
from
Great taste, feels clean, doesn't burn
Usually cinnamon burns my lips in a dental product, but this one is great! Feels fresh and doesn't dry out my mouth like my previous mouthwash.
Date published: 2020-02-27
Rated

5

out of

5
by
Sharlene
from
This is great! Way better then those other nasty tasting chemical laden brands in the store. Will order again.
Date published: 2015-11-06
Rated

5

out of

5
by
Chris2
from
Ok, the more I use it, the more I like it. Buying my second bottle.
Date published: 2014-01-18