NOW Sports Grass-Fed Whey Protein Concentrate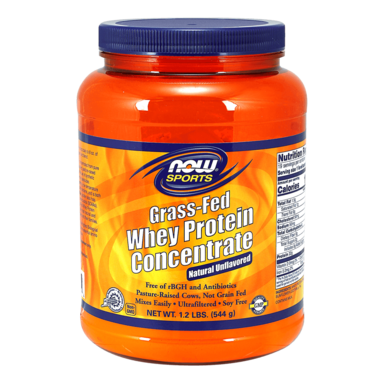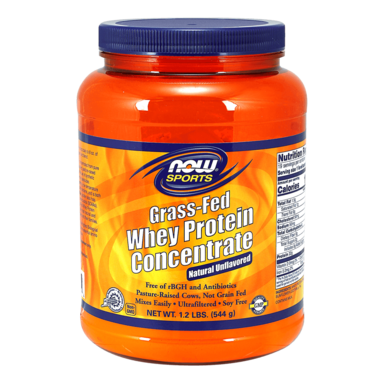 NOW Sports Grass-Fed Whey Protein Concentrate
NOW Sports Grass-Fed Whey Protein Concentrate Natural Unflavoured is concentrated from pure milk collected exclusively from grass-fed, pasture-raised cows. Locally-sourced from USA, the cows are raised without the use of synthetic growth hormones (rBGH), antibiotics or pesticides. Grass-Fed Whey Protein is processed by low temperature ultrafiltration to limit denaturation of the proteins, and is both bioavailable and easily digested. The NOW world-class labs and testing facilities ensure their raw materials exceed industry quality standards for purity. Rich in naturally occurring branched-chain amino acids (BCAAs), whey protein is considered to have the highest Biological Value of any protein source – superior in essential amino acid profile to beef, milk, casein, pea or soy. These qualities make NOW Grass-Fed Whey Protein ideal for active individuals seeking the most natural and wholesome milk protein for themselves and their families. This natural, unflavoured product only contains one other ingredient - sunflower lecithin as a flow agent - making it one of the CLEANEST Grass-fed Whey proteins on the market. This natural, unflavoured option allows you to flavour and sweeten to taste, or works well with your own smoothie flavours. This product mixes easily in a glass, shaker cup or blender with no clumping for an enjoyable drink you can use everyday.
Features:
Pasture-Raised Cows, Not Grain Fed
Free of rBGH and Antibiotics
Mixes Easily
Provides 22g of protein per serving
Extremely clean protein - Only 2 ingredients
Natural colour variation may occur in this product
Directions:
Add 1 level scoop daily to 8 oz. (250 mL) of cold water, milk, or your favourite juice, and blend
Ingredients:
Whey Protein Concentrate, Sunflower Lecithin (< 1%).
Typical Amino Acid Amounts per Serving:
L-Histidine* 522 mg
L-Isoleucine* 1233 mg
L-Leucine* 2404 mg
L-Lysine* 2190 mg
L-Methionine* 499 mg
L-Phenylalanine* 716 mg
L-Threonine* 1575 mg
L-Tryptophan* 197 mg
L-Valine* 1128 mg
L-Alanine 1148 mg
L-Arginine 580 mg
L-Aspartic Acid 2468 mg
L-Cysteine 255 mg
L-Glutamic Acid 3973 mg
Glycine 432 mg
L-Proline 1612 mg
L-Serine 1215 mg
L-Tyrosine 687 mg
*Essential Amino Acids