NOW Sports Soy Protein Isolate Powder Unflavoured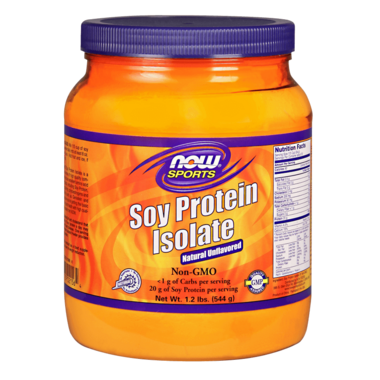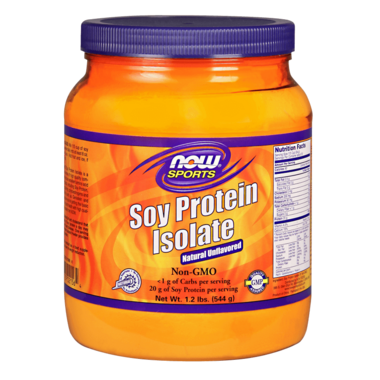 NOW Sports Soy Protein Isolate Powder Unflavoured
NOW Sports Soy Protein Isolate Powder Unflavoured is a good vegetable source of high quality complete protein that is very low in fat and carbohydrates, and contains an excellent amino acid profile. Soy products, including Soy Protein, are high in phytoestrogens. Soy Protein also provides beneficial proteins such as Genistein and Diadzein. This product contains an average of 42 mg of Isoflavones per serving. Make sure you're getting the basic building blocks of good health with high quality Non-GMO Soy Protein Isolate from NOW.
Features:
Vegetarian Protein
25 g of protein per serving
Rich in Isoflavones & Less than 0.5 g of Carbs per serving
Unflavoured Natural - No Aspartame, No Sucralose, No Acesulfame-K
Vegetarian/Vegan
Corn free, egg free
Directions:
As a food supplement, mix a 1/3 cup of soy protein isolate powder daily into at least 8 oz. of water, milk, or juice. Add fruit and ice, if desired, and blend.
Ingredient: Non-GMO Soy Protein Isolate.
Typical Amino Acid Amounts per Serving:
L-Histidine* 0.6 g
L-Isoleucine* 0.8 g
L-Leucine* 1.8 g
L-Lysine* 1.3 g
L-Methionine* 0.3 g
L-Phenylalanine* 0.9 g
L-Threonine* 0.7 g
L-Tryptophan* 0.4 g
L-Valine* 1.0 g
L-Alanine 0.8 g
L-Arginine 1.6 g
L-Aspartic Acid 2.5 g
L-Cysteine 0.6 g
L-Glutamic Acid 4.0 g
L-Glycine 0.8 g
L-Proline 1.1 g
L-Serine 1.1 g
L-Tyrosine 0.8 g
Total 21.1 g

*Essential Amino Acids