NOW Foods
NOW Sports Whey Protein Isolate Protein Powder Unflavoured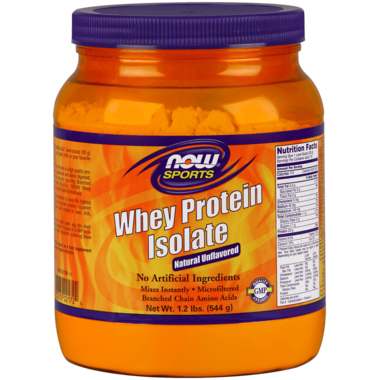 NOW Foods
NOW Sports Whey Protein Isolate Protein Powder Unflavoured
Description
NOW Sports Whey Protein Isolate Powder Unflavoured is a high quality protein supplement that is both bioavailable and easily digested. Whey protein contains a high concentration of Branched Chain Amino Acids (BCAA's), which are important for efficient muscle metabolism. NOW Whey Protein Isolate is ideal for active individuals.
Whey protein is considered to have the highest Biological Value of any protein source - superior in essential amino acid content to beef, milk, casein or soy. Enjoy this protein drink without any flavours at all, or add your own to it!
Features:
Highest Biological Value
No Artificial Ingredients
Mixes Instantly
No Aspartame, Sucralose, or Acesulfame-K
High in Branched Chain Amino Acids
Unflavoured
Directions:
Add 1 level scoop daily to 8 oz. of cold water, milk, or your favourite juice. Stir or blend.
Ingredients: Whey Protein Isolate, Soy Lecithin (< 1%).
Contains: Milk.
Typical Amino Acid Amounts per Serving:
L-Histidine 420 mg
L-Isoleucine*** 1568 mg
L-Leucine*** 2716 mg
L-Lysine 2716 mg
L-Methionine 560 mg
L-Phenylalanine 812 mg
L-Threonine 1708 mg
L-Tryptophan 448 mg
L-Valine*** 1288 mg


Non- Essential Amino Acids
L-Alanine 1288 mg
L-Arginine 588 mg
L-Aspartic Acid 2716 mg
L-Cysteine 728 mg
L-Glutamic Acid 4788 mg
L-Glycine 448 mg
L-Proline 1540 mg
L-Serine 1036 mg
L-Tyrosine 756 mg

*** Branched-Chain Amino Acids
Notice: Use this product as a food supplement only. Do not use for weight reduction.
Not manufactured with yeast, wheat, gluten, soy, corn, egg, fish, shellfish or tree nut ingredients. Produced in a GMP facility that processes other ingredients containing these allergens.
Highlights