NSG Sports Deluxe Archery Set
Archery Set, great for indoor and outdoor use. Includes 1 target, 1 bow and 5 arrows. Easy-load carry case for arrows and strap is adjustable.
Features:
FUN FOR EVERYONE: Tension adjustable bow with freestanding target makes this archery set easy enough for the kids but still fun for the teens and adults.
ACTIVE PLAY FOR BOYS & GIRLS: Includes tension adjustable bow, freestanding target with point scoring system (16.5" diameter & 36" tall), quiver with strap, & 5 deluxe arrows with suction cup tips.
ACTIVE FUN INDOORS & OUTSIDE: Develop aim & coordination while improving posture and muscle development when you practice your shot. Safety arrows without sharp tips keep kids, pets, and walls safe.
KIDS ARCHERY SET: This set is designed to be played with a variety of skill levels and ages (6 years old and up) with its tension adjustable bow and large, easy to hit target.
BOW AND ARROW KIT: A cool shooting game perfect for indoor or outdoor play, this Archery Set will quickly become an active basement, playroom, backyard, lawn, and park favourite for the whole family.
For Ages 6+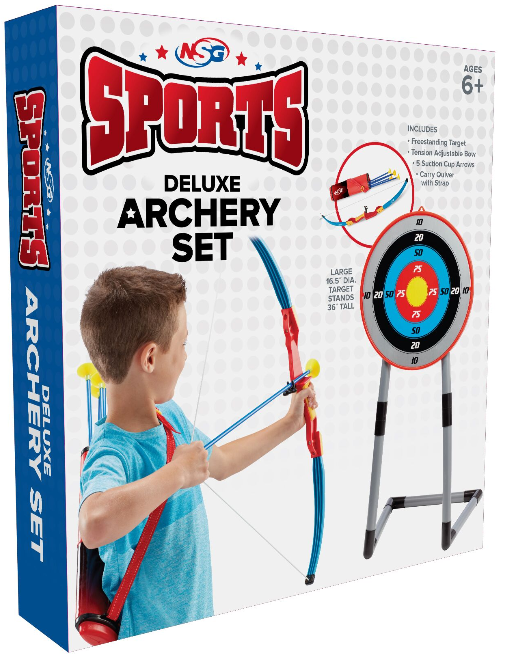 Other NSG Sports Products