Olay
Olay Total Effects 7-in-1 Anti-Aging Daily Moisturizer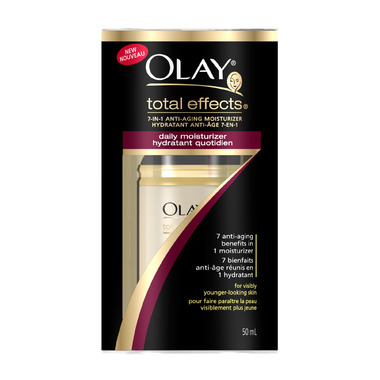 Olay
Olay Total Effects 7-in-1 Anti-Aging Daily Moisturizer
50 mL
Olay Total Effects 7-in-1 Anti-Aging Daily Moisturizer
is rated out of
5
by
2592
.
---
Description
For those concerned about multiple signs of aging, this daily facial moisturizer provides the benefit of 7 anti-aging therapies in 1 formula.
1. Line Minimization: Reduces the appearance of fine wrinkles.
2. Nourishing Moisturization: For a radiant, healthy glow.
3. Tone Enhancement: Balances color & reduces appearance of age spots.
4. Gentle Exfoliation: Smoothes and evens skin texture.
5. Pore Refinement: Minimizes the appearance of pores.
6. Free Radical Defense: Helps prevent damage to skin's surface.
7. Subtle Lifting: Hydrates for firmer skin appearance.
Rated

2

out of

5
by
firegirl911
from
Not enough time!
(This review was collected as part of a promotion.) I thought I would post a before and after picture but it seems like BzzAgent want me to put my review here now as I didn't finish the sample. So I'll not put this picture and just write my feelings about this cream...at least what I can tell for now. I really like the scent and the package. The pump is really effective and welll working. It was a great feeling to put this cream on my face every night but it is with most cream. For now I can't tell that I see much results, maybe a smoother skin but that's all. I don't think I will buy this cream because I had more results with my regular one.
Date published: 2015-12-18
Rated

4

out of

5
by
caritzel
from
young looking skin? yes you can still benefit!
(This review was collected as part of a promotion.) To start off, My face isn't in any deep trouble with uneven skin tone, age spots or major wrinkles, but I have had ever since I can remember forehead wrinkles that have always been there. I thought that they weren't anything I could deal with, boy was I wrong! After a WEEK of using this cream I have noticed a difference. I have been marketed many creams claiming to do the same for literally twenty times the price of this one. I cannot tell you how excited I am that I have found this and it is not a gimmick and a pocket breaker! Does the job, decent price and no sitting through presentations!
Date published: 2015-12-24
Rated

3

out of

5
by
joanna4986
from
Decent Moisturizer
(This review was collected as part of a promotion.) Overall, this product is a decent moisturizer. It has a nice, light finish and provides a good finish. As far as the anti-aging benefits, it is difficult to evaluate as I would be using this more as a preventative measure as opposed to trying to minimize existing lines and wrinkles. I'm not there yet. I haven't noticed a decrease in the visibility of my pores, and my current moisturizer does a better job of brightening my skin and relieving dullness. It's a good moisturizer for the price point and Olay has a great reputation. I would probably use it if I didn't like my current brand so much.
Date published: 2015-12-08
Rated

5

out of

5
by
momply4
from
Great Product
(This review was collected as part of a promotion.) I think this is so amazing I love how it is helping my skin and helping to get rid of fine lines and wrinkles and age spots. I love how easy it goes on and its so simple to use and leaves my skin feeling amazing and smooth. I like knowing that im doing something good for my skin and also helping make my skin look great at the same time. I never believed that there was a product out there that has 7 in 1 this is great, it is an anti-aging moisturizer and it has a unique vitamin complex it , that helps out with signs of aging and fine lines wrinkles and uneven skin tone this is just the best.,
Date published: 2015-12-05
Rated

4

out of

5
by
Ladywrench
from
Another great product from Olay!
(This review was collected as part of a promotion.) I got this product to try just before I went on a trip to Cuba and decided it would be the cream to take along and test for 7 days of sun, heat, sweat, water & dryness. I am so happy that I took it! I used it twice a day - once in the morning and once in the evening after showering. It is not greasy at all (something I look for in a face product), it soaks in very nicely and it kept me moisturized. I liked how it made my skin feel soft and didn't leave my skin feeling tight. I was a regular user of Oil of Olay (my grandmother swore by it) but I think now, I will be switching to this Olay :)
Date published: 2015-12-13
Rated

4

out of

5
by
astack
from
Olay® Total Effects 7 Review
(This review was collected as part of a promotion.) I used this product alone on my face, at night, until it ran out. I didn't want any other product to skew my review. My skin, especially in the winter, is very dry. Of the seven claims, I'm not sure it holds up to all of them but my skin was certainly very moist and appeared brighter, as it left a nice healthy sheen to my skin. I do think this is a great product. I love the smell as it is a light, clean scent. The consistency creamy but not heavy on the skin. However, it provided enough moisture to my very, dry skin. Overall it was a product I would purchase again and recommend to friends.
Date published: 2016-01-08
Rated

1

out of

5
by
robmel1234
from
My Olay Experience
(This review was collected as part of a promotion.) So this is my follow up post. I have been using Olay daily. The pros-it smells great. Just a very light fragrance that makes me want to use it daily. The cons however, it is greasy. I tried putting light amounts on and it felt wet to the touch after being on my skin for a bit in other words it didn't soak in very fast and I saw no visible difference to my skin. It is unfortunate as I love Olay body wash and other Olay products. I have to say this one is not something I would purchase again unless they could find a way to make it not so greasy. I am sorry, Olay but this one is a thumbs down.
Date published: 2015-12-03
Rated

4

out of

5
by
shoppingobsession
from
Very good for a drugstore brand
(This review was collected as part of a promotion.) I have been using it for a week in the morning. I have tried many high end brands and always go back to Olay as they are drugstore but better than a lot of the expensive brands. I have oily combination skin and always thought anti-aging moisturizer always makes my skin extra oily. But not with this one. This one hydrates my skin but not making it oily. Notice a slight blurring of fine lines around my eyes after a week use. Not so much with age spots. Guess will have to keep using it for longer period of time. Very happy that I got to try this and will buy this once I have used up my bottle.
Date published: 2015-12-03