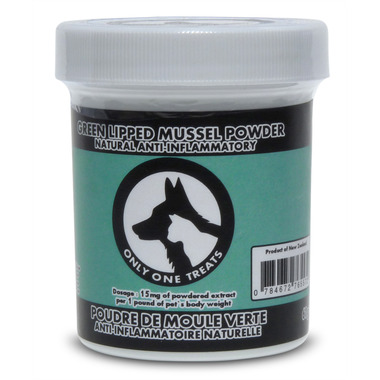 Description
Only One Treats Green Lipped Mussel Powder is a rich, natural source of vitamins and minerals. Green Lipped Mussel Powder (Perna canaliculus) is a joint health supplement ingredient.

The bioactive substances found in Green Lipped Mussel Powder are increasingly becoming recognized in supporting joint mobility, cartilage maintenance, cardiovascular health, healthy skin and for general health without any side effects.

100% pure New Zealand Green Lipped Mussel Powder is a source of natural bioactive marine ingredients formulated to: reduce inflammation and pain, support healthy joints, supply a rich source of essential fatty acids (Omega 3, 6 and 9), shown to help support healthy brain and cardiovascular function, maintain healthy skin condition, bolster the Immune system, and a feed attractant and stimulant. It also assists with rheumatoid arthritis, osteoarthritis, and asthma. It is also a natural source of antioxidants.
Highlights