Oral-B Genius 8000 Electric Rechargeable Toothbrush Powered by Braun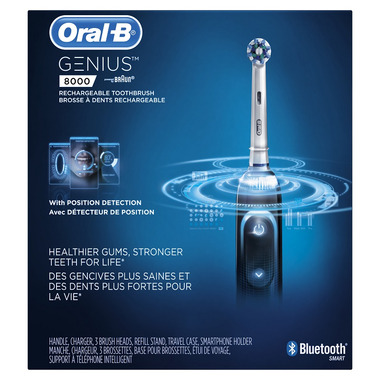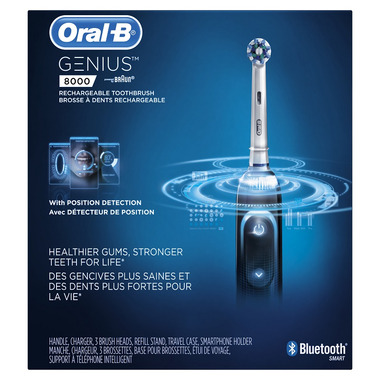 Oral-B Genius 8000 Electric Rechargeable Toothbrush Powered by Braun
Get a superior clean with the Oral-B Genius 8000 Electric Rechargeable Toothbrush Powered by Braun. Designed to help you brush like your dentist recommends, the Genius 8000 seamlessly connects with the Oral-B smartphone app via Bluetooth technology to provide you with customized real-time feedback about your brushing habits, including our highly advanced Position Detection technology that ensures you never miss a zone. The brush and app also provide time coaching to make sure you brush the recommended 2-minutes and include a pressure alert to protect your gums from over-brushing.
This highly advanced brush features a dentist-inspired round head that surrounds and cups each tooth with dynamic oscillating, rotating and pulsating movements to remove up to 100% more plaque than a regular manual toothbrush. The 360 Smartring with LED lights allows you to personalize your brushing experience with 12 colors while delivering visual feedback on your brushing pressure, brushing time and selected mode. Discover a revolution in oral care with the new intelligent Genius 8000 electric toothbrush, designed by Braun, and brought to you by Oral-B.
Features:
Oral-B the #1 dentist used and recommended brush in the world
An electric toothbrush so revolutionary, it tells you how to brush like your dentist recommends
Position Detection technology helps you know where you¹ve brushed, so you never miss a zone
Dentist-inspired round head oscillates, rotates and pulsates, removing up to 100% more plaque
Pressure sensor technology automatically slows brush speed to protect gums from over-brushing
Programmable 360 Smartring with LED lights to customize your brushing experience
6 Modes, including Pro-Clean for an extraordinary clean feeling
Lithium Ion battery provides up to 12 days of brushing between charges
Includes handle, charger, 3 brush heads, refill stand, travel case and smart phone holder
Do not use on children under age of 3. Replace brush head every 3 months or sooner if brush head becomes loose due to damage.