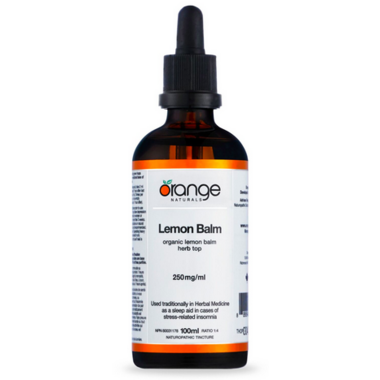 Description
Gentle enough for children over age 13, this soothing tincture is truly a balm for those trying to sleep. It is soothing to those under mental stress and has also been used traditionally to relieve digestive complaints. Consider this herb for those needing a good night's sleep before a test, big exam or big interview.
Recommended Use: Used as a sleep aid in cases of stress-related insomnia.

Directions: Ages 13 and over: take 3 mL, 3 times per day.

Cautions and Warnings: Consult a healthcare practitioner prior to use if you are pregnant or breastfeeding, or if sleeplessness persists continuously for more than 3 weeks. May cause drowsiness. Exercise caution if operating heavy machinery, driving a motor vehicle, or involved in any activities requiring mental alertness.

Potential or Known Drug Interactions:
Consumption with alcohol or other medications or natural health products with sedative properties is not recommended.
Highlights

Ingredients
Each mL contains: Lemon Balm (Melissa officinalis, 1:4 herb top extract) 250mg. Non-Medicinal Ingredients: 40% grain alcohol; purified water.
Shipping & Returns