Oriwest
Oriwest Turquoise Jasper Lava Bead Bracelet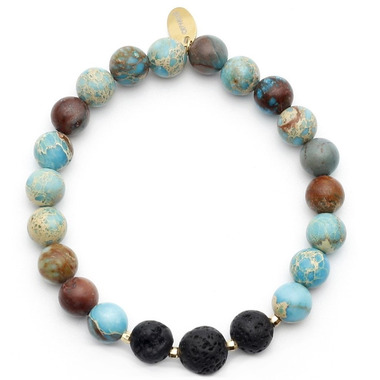 Oriwest
Oriwest Turquoise Jasper Lava Bead Bracelet
Description
This stylish Oriwest Bracelet features authentic lava beads. Made from cooled lava, this naturally abundant stone is the perfect way to experience aromatherapy on the go -- just add a few drops of your favourite oil directly to the bead then enjoy the subtle fragrance. It lasts for days!
Turquoise Jasper are wonderful stones for helping one fine inner peace, clarity, love and compassion. Helping with the alignment of the physical and mind, turquoise jasper is an excellent stone for emotional healing.
Features
:
Type: Lava Bracelet - Add a few drops of oil directly to the lava stone and aroma lasts for days!
Diffusing Method: Lava Stone
Bracelet Stone: Turquoise Jasper, color may vary
Fits Wrist Size: 7"
Stretch: Moderate
Other Features: 16k gold plated Copper Beads, Hypoallergenic and Tarnish Resistant
Packaging: Come with modern chic display cardboard
Lava beads begin their journey to your jewelry as molten rock beneath an active volcano. At over 1,000 degrees Celsius the molten rock begins to melt and finally erupts out of the volcano. Once the lava meets the cooler air it solidifies and eventually becomes this beautiful piece of jewelry. Lava beads promote strength & fertility - driving away anger, promoting clarity of mind, and strengthening our connection to Mother Earth.


Handcrafted Designed & Manufactured by Oriwest