Oriwest Vitacea Picture Jasper Lava Bead Bracelet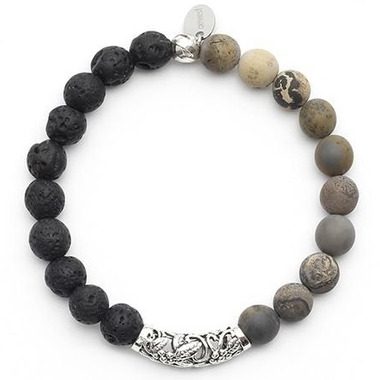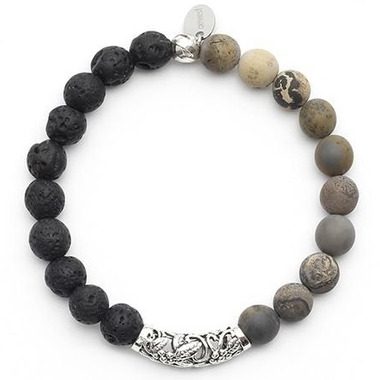 Oriwest Vitacea Picture Jasper Lava Bead Bracelet
This stylish Oriwest Bracelet features authentic lava beads. Made from cooled lava, this naturally abundant stone is the perfect way to experience aromatherapy on the go -- just add a few drops of your favourite oil directly to the bead then enjoy the subtle fragrance. It lasts for days!
Picture Jasper - a remarkable form of Brown Jasper, is characterized by masterful "scenes" and landscape patterns formed by Nature, and is believed to contain hidden messages from the past. It was revered in many cultures of the world for its deep connection to the Earth, its protection during shamanic journeying, and its ability to divine the land and the future. It is perhaps more closely connected to the planet than any other Jasper and is known today as the Stone of Global Awareness.
Features
:
Type: Lava Bracelet - Add a few drops of oil directly to the lava stone and aroma lasts for days!
Diffusing Method: Lava Stone
Bracelet Stone: Picture Jasper 6mm
Stretch: Moderate 7"
Silver plated grapevine design tube
Hypoallergenic and Tarnish Resistant
Packaging: Come with modern chic display cardboard
Lava beads begin their journey to your jewelry as molten rock beneath an active volcano. At over 1,000 degrees Celsius the molten rock begins to melt and finally erupts out of the volcano. Once the lava meets the cooler air it solidifies and eventually becomes this beautiful piece of jewelry. Lava beads promote strength & fertility - driving away anger, promoting clarity of mind, and strengthening our connection to Mother Earth.
Handcrafted Designed & Manufactured by Oriwest