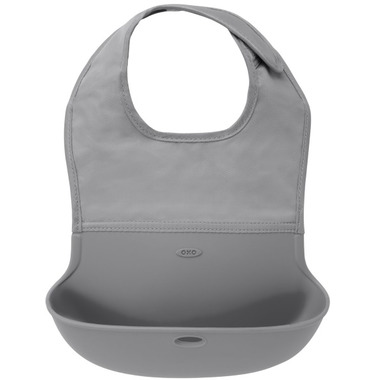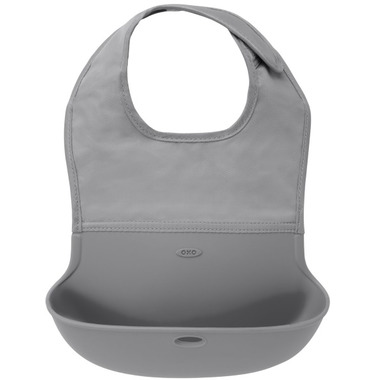 Make mealtime messes manageable with the OXO Tot Bib. The soft, food-safe pocket is wide enough to catch virtually any stray pieces of food that miss baby's mouth. The fabric portion of the Bib provides ample coverage to protect baby's clothes, and is shaped for comfort during mealtime.
Features:
When you're out and about, simply roll the Bib's fabric into the silicone pocket, secure closed and tuck into a diaper bag.
The silicone pocket keeps the messy Bib away from the contents of the diaper bag.
Easy-to-use hook and loop closure is secure enough to resist tot's tugging (really!) and is adjustable as your little one grows.
The Bib's length and soft pocket won't interfere with the high chair tray or table.
Both the fabric and silicone materials are easy to wipe clean.
BPA, PVC, and phthalate free.
Jennifer:
about a year ago
I was happy to find a silicone bib that isn't pink, blue,green or patterned! This bib works well for baby led feeding and catches and holds the food that would have otherwise landed on the floor! The bib wipes clean easily and I've ran it under water too. Planning to buy a second to keep in the diaper bag!
Page
1