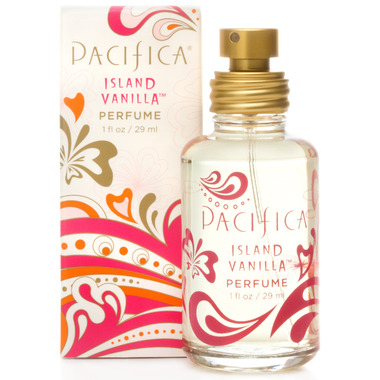 Island Vanilla
1 oz
Pacifica Spray Perfume
is rated out of
5
by
8
.
---
Description
Fun, fresh and fantastic, Pacifica Spray Perfume is made with natural, pure grain alcohol (corn-sourced and gluten-free) and Pacifica's signature perfume blends with essential and natural oils. Icy and mysterious in Island Vanilla, it's sexy, easy to wear and lovely to layer!

​Inspired by the unique magic of Tahitian vanilla, this sensual blend sets sweet and sultry vanilla absolute, with honey-jasmine notes and a touch of fruitiness, against a deep and beautiful base of tea.

No parabens, animal testing, animal ingredients or artificial colours. 100% VEGAN and Gluten-free.

Ingredients: alcohol denatured (natural grain), parfum (Pacifica's own fragrance blend with natural and essential oils), aqua.

Highlights

Rated

5

out of

5
by
ErinGoBraless
from
I like it!
Didn't think I would as most vanilla scents make me want to hurl, but not this one. Goes on a bit oily but dries quickly. I put a spritz in my navel and I'm good to go. Not overpowering at all. This one replaces the one from Bath and bodyworks before they changed the formula. It's kind of weird that the bottle doesn't have a cap though.
Date published: 2020-05-13
Rated

5

out of

5
by
billingsblvd
from
I love everything about this perfume
This is my favorite perfume! The scent is lovely and not overpowering. I was searching for a perfume that was free from all the toxic chemicals and this brand offers a great variety of beautiful scents to suit everyone. I have been using it for years now and it's my go-to daily choice and one bottle will last me about six months.
Date published: 2020-12-04
Rated

5

out of

5
by
CS89
from
Love The Scent!
I love the smell! It's very warm smelling. If you love vanilla scents, you can't go wrong here! I bought this as a more "natural" option. It is not overpowering throughout the day, which I love. Most perfumes give me a headache, this does not.
Date published: 2020-02-12
Rated

5

out of

5
by
IsaPhD
from
Lovely, fun perfume
This perfume may not be as complex as the more high-end ones, but it's a fun addition to my collection. I wear it often, it's sweet and smells for quite a long time. Plus it's natural, so what's not to like? ;o)
Date published: 2020-06-27
Rated

5

out of

5
by
Mg
from
Vanilla goddess!
If you're a fan of vanilla, this scent is great. Subtle and not overpowering or smells synthetic. Super small though! The size of a shot glass 30ml. Expensive for what you receive but smells fantastic!
Date published: 2020-12-14
Rated

5

out of

5
by
Celine
from
delicious
This perfume smells even better than I imagined !!
Date published: 2020-07-26
Rated

5

out of

5
by
713Stars
from
Addicted!!!
This is one of my all time favorite scents. Pacifica is all natural and doesn't give me headaches or irritate my skin like perfumes do. I get complimented on the fragrance all the time.
Date published: 2022-01-06
Rated

5

out of

5
by
jh
from
Delicious scent!
I know that perfume is a person thing, but in my opinion, this is delicious! The scent is quite sweet, but I like that. Warm, sweet, and not overly-strong, but strong enough. Lovely!
Date published: 2021-12-29