Pai Skincare Camellia & Rose Gentle Hydrating Cleanser
Gently Removes Dirt while Maintaining Skin's Oil and pH Blance
100 ml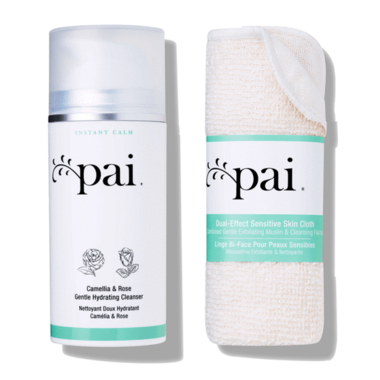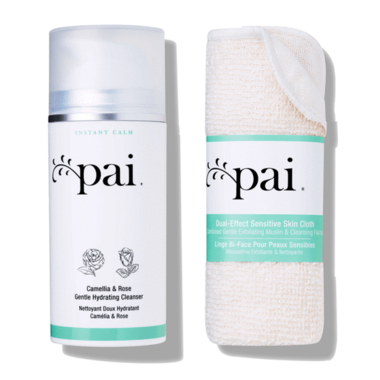 Pai Skincare Camellia & Rose Gentle Hydrating Cleanser
Gently Removes Dirt while Maintaining Skin's Oil and pH Blance
100 ml
Pai Skincare's creamy Camellia & Rose Hydrating Cleanser gently removes dirt, makeup and other impurities that build up on your skin throughout the day. Bursting with Omegas 6 & 9 and Vitamin E, it replenishes the skin's moisture barrier, leaving it soft and supple. Suitable for all skin types - including sensitive and reactive skin, this gentle Cleanser is detergent and alcohol-free, to help maintain the skin's delicate oil and pH balance.

Castor and sweet almond oils help to breakdown makeup, including waterproof mascara, while protecting the skin - making this Cleanser a perfect alternative to harsh eye makeup removers that can leave the delicate skin around the eyes dry and irritated. A naturally dry oil, Camellia gives this Cleanser luxurious texture, without the greasy or heavy feeling of Oil or Balm cleansers. The dual textured Cloth allows you to switch between a gently exfoliating Muslin for thorough cleansing, and an ultra-soft terry side for sensitive areas
Features:

One cleanser. Every type of sensitive skin.

Super-gentle cleansing action for dry, delicate and sensitive skin.

Alcohol and detergent-free formula maintains the skins natural oil and pH balance.

Hydrating properties leave skin soft and replenished.

Gently lifts away eye make-up.

Includes Dual-Effect Sensitive Skin Cloth, with textured muslin and soft terry sides.
Ideal For: All Skin Types, Sensitive, Dry, Mature, Combination

Directions: Dampen the Dual-Effect Sensitive Skin Cloth with warm water and squeeze out excess. For EYES: Apply a small amount of Cleanser to dry, closed eye, massaging gently. Using soft-terry-side of cloth, sweep over eye to clean and lift away all traces of make-up and Cleanser. For FACE: Gently massage Cleanser onto dry skin. Remove using muslin-side of cloth*, with gentle circular movements. Follow with final sweep over face with soft terry-side. * For hypersensitive skin, use only soft terry-side of cloth.
Ingredients: Aqua - Purified Water Camellia Oleifera Seed Oil* - Camellia Oil Ricinus Communis Seed Oil* - Castor Oil Prunus Amygdalus Dulcis Oil* - Sweet Almond Oil Lactobacillus Ferment - Naturally Derived Preservative Cetearyl Alcohol - Naturally Derived Emulsifier Glycerin - Organic Derived Vegetable Glycerine Butyrospermum Parkii Butter* - Shea Butter Cetearyl Glucoside - Naturally Derived Emulsifier Tocopherol - Natural Vitamin E Rosa Damascena Oil* - Rose Oil Pelargonium Graveolens Oil* - Rose Geranium Oil Sodium Levulinate - Naturally Derived Perservative Lavandula Augustifolia Oil* - Lavender Oil Lactic Acid - pH Regulator Litsea Cubeba Oil* - May Chang Oil Sodium Stearoyl Glutamate - Naturally Derived Emulsifier Sodium Anisate - Naturally Derived Preservative Naturally Occurring In Essential Oils: Citral, Citronellol, Limonene, Geraniol, Linalool. Contains Nut Oil. *ORGANIC (71%)
Natural, Organic, Vegan-Friendly, Cruelty-free