Patience Fruit & Co. Zesty Sunshine
Organic Artisan Blend
130 g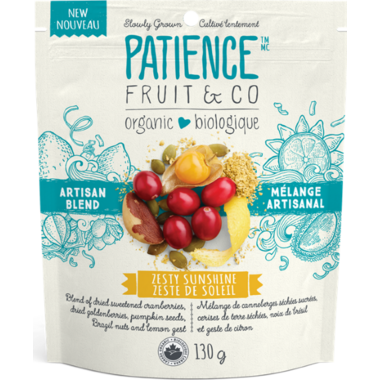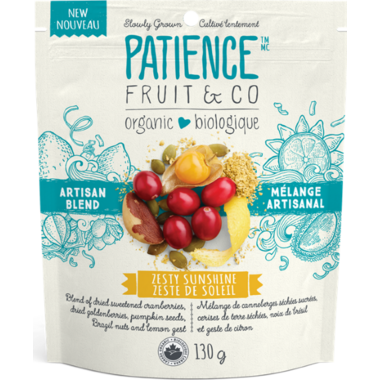 Patience Fruit & Co. Zesty Sunshine
Organic Artisan Blend
130 g
Zesty Sunshine. Fresh and tart. This mix of dried cranberries, dried goldenberries and Brazil nuts is crisp, refreshing and reviving. The secret? The lemon zest that we add! It's a touch that enhances and brightens and gives snack time a little 'zip'. At the park with the kids, at work or outdoors, this snack is your go-to health break. After physical activity, it is always good to recharge your batteries. This snack is all it takes to help you replenish your energy!
Exquisitely good for you. Polyphenols, known for their antioxidant properties, are found naturally in the berries and cranberry powder used in this blend. Zesty Sunshine contains 45mg per 30g serving.
Ingredients:
Dried cranberries (cranberries, sugar, sunflower oil), pumpkin seeds, Brazil nuts, dried goldenberries, cranberry powder, dried lemon zest, cilantro.
Contains Brazil nuts. May contain traces of other tree nuts.