Pedifix
Pedifix Tea Tree Ultimates Soaking Crystals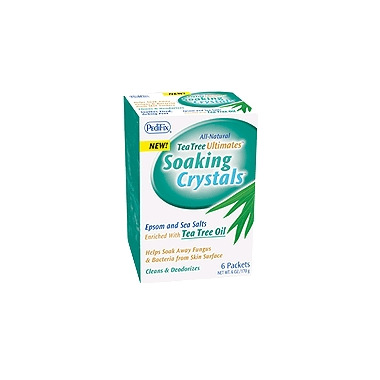 Pedifix
Pedifix Tea Tree Ultimates Soaking Crystals
Description
Helps Soak Away Fungus & Bacteria from Skin Surface

Tea Tree Ultimates Soaking Crystals is a therapeutic foot soak featuring our exclusive blend of tea tree and peppermint essential oils, Epsom salt and sea salt. This invigorating soak soothes aches and pains, relieves itching and softens corns and calluses while fighting fungus and bacteria. Leaves your feet feeling refreshed, clean and smelling great! 6 packets/package.

Directions:

Fill basin or tub with warm water. Add entire contents of packet to still water and stir with hand to activate essential oils. Carefully immerse yourself or your feet and soak for about 15 minutes.
Highlights