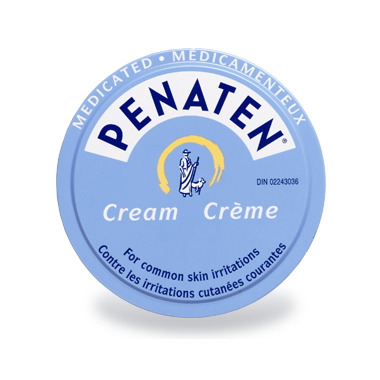 55 g
Penaten Medicated Cream
is rated out of
5
by
121
.
---
Description
Penaten Cream is a medicated diaper cream that is best used at the first signs of redness, as it starts working right away. Apply a layer of Pentan medicated cream and fasten a clean diaper. By applying a medicated barrier cream at every diaper change, you help diaper rash while protecting the skin from further irritation.
Rated

5

out of

5
by
GrandmaSandra
from
Worked better than any other product I tried.
This amazing cream gave me great relief from several fire ant bites around my ankles. It's always been a dependable product for babies...and it was really for sentimental reasons that I purchased it now as a garden Grandma. It reduced the pain and swelling in a matter of hours. I tried it on a whim- and can't say enough good things about its effectiveness. And I see that I don't have to wait until I visit my Canadian Family to purchase another tin. Thank you so much.
Date published: 2020-07-24
Rated

5

out of

5
by
Anonymous
from
this product is life saving
I used this product for my daughter when she was a baby. I know how it is good and effective for diaper rash, I did not know it work the same for adult. I have sensitive skin that reacted with soap, sanitary pad, even with body cream. I have seen many medical doctor for that. finally a friend suggested me to use pentane, I used it . guess what, I found out it gives me a relief, it is really a wonderful product .
Date published: 2016-11-28
Rated

5

out of

5
by
4thjet
from
Best all round cream ever!
I've been using this since my boys were babies, one has grown kids of his own now. Besides rashes, cuts, dry skin that cracks this wonderful cream seems to heal my hands overnight. Even as a teen I used it and still do for the odd pimple that comes out. It takes the red out and heals up the zit almost overnight. I always have a tin of Penaten in my medicine cupboard and a tiny one for travel. Heals so many things it's great to have around for those minor cuts, rashes etc. Absolutely the best healing cream ever!
Date published: 2015-03-02
Rated

5

out of

5
by
Samsam
from
Amazing product
Improved my baby's diaper rash right away and within days completely got rid of my baby's diaper rash! Love this product and highly recommend it.
Date published: 2019-03-30
Rated

5

out of

5
by
Santos
from
One of the best i have ever used in my life.
I got this gift to my child from my sister living in Germany Frankfurt. She also use it since long ago.
Date published: 2020-08-28
Rated

5

out of

5
by
Ziggy0216
from
Redness gone!
Let's face it, we can't change our babies immediately after they are wet or soiled well not at 1 year old they are busy! So this week my baby was having some loose stool and i was changing her as quick as possible checking often but it still wasn't good enough she ended up with a bad rash ( it looked terrible after 3 stools) one application of penaten and it was significantly better after 3 applications ( and diligent checking) it's almost gone! Other brands have never worked like this for us!
Date published: 2017-08-19
Rated

5

out of

5
by
Lindsay
from
Works awesome on diaper rashes!!
When I ran a dayhome I'd always recommended this product to the parents of the kids I looked after. It's the best thing on the market for diaper rashes!
Date published: 2016-12-02
Rated

5

out of

5
by
Branden
from
Great for hard working winter hands!
Got a pot from Germany as a gift from my grandma. I work with allot of chemicals and water every day. Winter tends to break up my skin on my hands quite badly. This product works mighty fine for winter hands too. Thank you J&J for this great product.
Date published: 2020-07-16