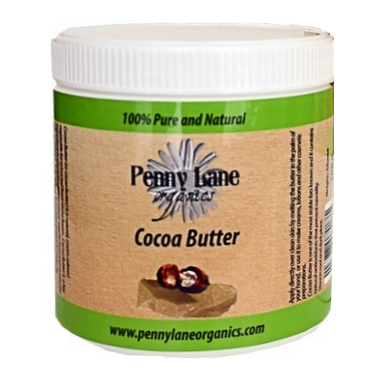 Description
This Penny Lane Organics Cocoa Butter is a natural cream coloured vegetable fat extracted from cocoa beans.
Features:
Aids in healing and moisturizing skin that has been exposed to elements
Helps reduce the formation of stretch marks during pregnancy by keeping the skin supple
Makes a wonderful ingredient in lotion bars, lip balms, body butters and soaps
Cocoa Butter is one of the most stable fats known and it contains natural antioxidants that prevent rancidity
This butter is very hard in consistency
Directions:
Use daily after shower to moisturize and soften the skin. Use in pregnancy to keep stretching skin moist and help it maintain its elasticity and prevent appearance of the stretch marks. Simply take a small piece of butter and let it melt between the palms of your hands and then spread over the skin.
Safe to use on children and pets too.
Ingredients:
100% pure cocoa butter extracted from organic cocoa beans
If making your own cosmetics here's the recommended usage for different types of products:
Lotions & Creams: 5 - 20 %
Balms: 5 - 100 %
Bar Soaps: 5 - 20 %
Hair Conditioners: 1 - 5 %
When adding butters to creams and lotions, it might be necessary to gently warm them until the texture can be incorporated into the final product. Using a hand blender, create a vortex with your cream or lotion and drizzle your melted butter to fully incorporate. For addition in soaps, the general rule of thumb is 1 tablespoon per pound. As with most raw materials, results may vary, so we strongly recommend small, lab scale batches prior to any commercial manufacturing.
Highlights