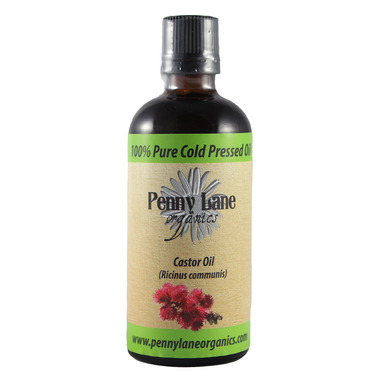 100 mL
Penny Lane Organics Cold Pressed Castor Oil
is rated out of
5
by
4
.
---
Description
Cold Pressed Castor Oil is extracted from Castor Bean seeds as a slightly viscous clear, colourless to pale liquid with little to no scent. It has been used for maintianing health and beauty for thousands of years.

Features:
Castor oil helps soften and hydrate dry and damaged skin. It penetrates deeply and stimulates the production of collagen and elastin which delays the appearance of wrinkles and fine lines, giving the skin smoother, softer and younger look.
Castor oil is an excellent remedy for acne prone skin since it contains Ricinoleic acid which fights off the acne-causing bacteria.
Due to high concentration of fatty acids castor oil is a wonderful moisturizer that helps eliminate dry patches and restore hydration of the skin. Only a little amount of castor oil is needed for this purpose.
Fatty acids in castor oil help soften and diminish the scar tissue slowly while encouraging the growth of healthy tissues around it.
Castor oil is perfect for treating stretch marks
Castor oil promotes hair growth when applied topically to the scalp as it boosts blood circulation to the follicles, leading to faster hair growth. The oil also has omega-6 essential fatty acids, responsible for healthy hair.
Helps thicken eyebrows and eyelashes
Castor oil is a great remedy for treating arthritis. Its anti-inflammatory properties make it an ideal massage oil for relieving joint pain, nerve inflammation and sore muscle
It's used to sooth and calm the sunburns
And there are many other benefits and applications for this wonderful oil.
Directions:
Take a piece of soft cotton fabric or a cotton ball and soak it in castor oil. Press out excess oil and place on the affected area that you want to treat, such as dry skin patch, eyebrows, etc.
To treat achy joints place cotton fabric soaked in castor oil over the joint and cover with a plastic wrap. Place a hot water bottle or heating pad on this and leave it on for an hour.
To treat hair - apply the oil and leave it overnight after covering it with a cap for deep penetration. Wash it off thoroughly the next day.
Ingredients:
100% pure cold pressed castor seed oil
Warning:
Castor seed oil is safe when used topically. Using it internally can cause diarea and induce labour in pregnant women therefore do not use it unless advised by a medical professional.
Highlights

Rated

5

out of

5
by
Schatzi 2
from
Excellent Product
I purchased this product specifically to use on my eyelashes. After reading about the moisturizing properties of castor oil on hair I decided that I would try it. I washed an old mascara brush well with soap and water and now I keep it only for the purpose of applying the oil to my eyelashes. The first week went fine with no reaction and then I started to notice a little bit of sore along the lash line. I cut back to Monday, Wednesday and Friday and the redness disappeared. My lashes are not falling out and they do seem to be a bit longer. I am very pleased and will continue. If you decide to do this start with only a little bit of the oil and adjust as you need. I am very pleased!
Date published: 2020-05-29
Rated

5

out of

5
by
Kat
from
Great Castor Oil
I really like this cold pressed castor oil. I use it as a weekly hair mask and also on my face to moisturize. It is quite thick so removed the little plastic nozzle it comes with. Keep it in the fridge as they recommend.
Date published: 2021-04-27
Rated

3

out of

5
by
EH60
from
id review it if i could figure out how to open it?
Cant review this because cant figure out how to get the oil to come out..am i supposed to remove the opaque plastic insert in the lip of bottle? I think thats the dropper? Pls help!
Date published: 2021-09-03
Rated

4

out of

5
by
Emiligia
from
It works!
I have been using this product to regrow my eyebrow hair and have definitely noticed a difference! Would recommend!
Date published: 2020-04-29