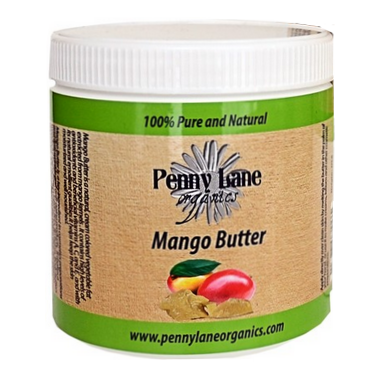 300 g
Penny Lane Organics Mango Butter
is rated out of
5
by
7
.
---
Description
Penny Lane Organics Mango Butter is a natural cream coloured vegetable fat extracted from the kernels of mango fruit.
Features:
This butter is highly emollient, softening and soothing to the skin and it helps treat skin rash, eczema, insect bites, and poison ivy
Mango butter is rich in antioxidants, vitamin A, C and E which are key ingredients for healthy skin and hair
Helps shield against harmful UV rays protecting both the hair and scalp from potential sun damage, making it an extremely effective sunscreen for the hair
Mango butter is a great way to maintain moisture in the hair and keeping it well nourished, as well as providing it with the beneficial vitamins and nutrients it needs to look and feel healthy.
Directions:
Use mango butter as a massage cream, as a moisturizer after the shower or instead of a shaving cream. Simply take a small piece of butter and let it melt between the palms of your hands and then spread over the skin or hair roots. Safe to use on children and pets too.
Ingredients:
100% pure mango butter extracted from kernels of mango fruit.
If using Mango butter to make cosmetics - when adding butters to creams and lotions, it might be necessary to gently warm them until the texture can be incorporated into the final product. Using a hand blender, create a vortex with your cream or lotion and drizzle your melted butter to fully incorporate. For addition in soaps, the general rule of thumb is 1 tablespoon per pound. As with most raw materials, results may vary, so we strongly recommend small, lab scale batches prior to any commercial manufacturing.
Highlights

Rated

5

out of

5
by
Jackman_112
from
Amazing stuff!
I bought it for my psoriasis, but find it's the best face cream I've ever used in my life (has diminished my wrinkles, lightened age spots and most incredibly, reduced my marionette lines). I do what another reviewer suggested - heat it up in a pot and then refrigerate and it comes out as a lovely smooth cream that melts away on the skin.
Date published: 2020-05-28
Rated

5

out of

5
by
Kiki
from
Great ingredient, non-greasy, but *not* a sunscreen!
FYI, I didn't buy this with the intent of using it as a sunscreen - only zinc oxide, titanium dioxide, and a handful of chemical filters work and are allowed to be used for that. It does make very nice balms though! I used this to do enfleurage (pressing fresh flowers into a solid fat, letting them infuse, and repeating with fresh petals) using calendula. It's pretty dry-feeling on the skin and not greasy like coconut oil, even though they're both solid. Penny Lane Organics has great value bulk products.
Date published: 2020-03-19
Rated

5

out of

5
by
Kate
from
I will definitely be buying this again - particularly when on sale. It's the perfect base for my home made body butter.
Date published: 2019-12-30
Rated

1

out of

5
by
sfelskie
from
Received part of a bad batch
I ordered this product based on the reviews. I just received it and inside the container was a hard lump that smells like old clay.
Date published: 2021-01-13
Rated

5

out of

5
by
Dominique
from
Great for eczema
I love this product! I have had eczema patches on my body for weeks and even the prescription cream only helped for a little while and then it would come back. I have been using this mango butter for 2 weeks and almost immediately the itching was gone. Now the patches are almost completely gone. To me this has been a life saver!
Date published: 2022-09-07
Rated

4

out of

5
by
EmGB
from
Different than expected
I was surprised at how hard and granular it is, but once I started using it, I like how it melts into a smooth, non oily texture. I haven't tried mixing it with other ingredients yet, but other reviewers have really good suggestions. I love that it is a basic ingredient.
Date published: 2020-07-03
Rated

5

out of

5
by
Olga Z.
from
Good for body lotions
I use it to make body lotion and hand cream. It absorbs well.
Date published: 2021-01-30