Penny Lane Organics Plantain Herbal Oil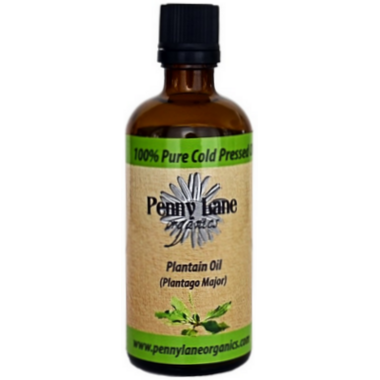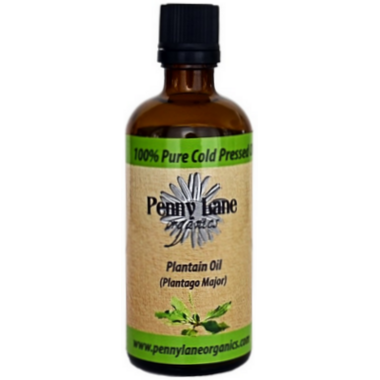 Penny Lane Organics Plantain Herbal Oil
Plantain is grown organically in our own medicinal herb garden in the Beaver Valley and hand picked and infused in fractionated coconut oil. Heated gently by the warm sun rays oil absorbs healing properties of Plantain leaves and flowers. After 4 to 6 weeks plant material is removed, oil is filtered, poured into dark glass bottles and stored in a cold dark space. To keep this wonderful Penny Lane Organics Plantain Herbal Oil fresh we add a drop of Rosemary extract.
Plantain is very high in beta carotene (A) and calcium. It also provides ascorbic acid (C), and vitamin K. Among the more notable chemicals found in plantain are allantion, apigenin, aucubin, baicalein, linoleic acid, oleanolic acid, sorbitol, and tannin. Together these constituents are thought to give plantain mild anti-inflammatory, antimicrobial, antihemorrhagic, and expectorant actions. Aucubin has been reported in the Journal of Toxicology as a powerful anti-toxin. Allantoin has been proved to promote wound healing, speed up cell regeneration, and have skin-softening effects.
Features:
Used to cure headaches, all kinds of skin conditions and as an antidote to poisonous bites
Has wound healing and anti-inflammatory properties
Has excellent anti-aging and anti-wrinkle properties as it works on reducing the appearance of fine lines, dark circles under eyes, droopy eyelids and dark spots related to aging
Plantain oil is also safe for children of all ages to get relief after insect bites and soothe skin rashes.

Directions:
Safe for children, pets and adults. Apply few drops of oil on the area affected by rash, insect stings and bites or on irritated, dry and itchy skin. Add few tea spoons to bath water to sooth and calm skin irritations and for soft velvety skin. Apply over wrinkles and areas where dark spots appear. It's soothing to skin affected with eczema, psoriasis, rashes and cracks.