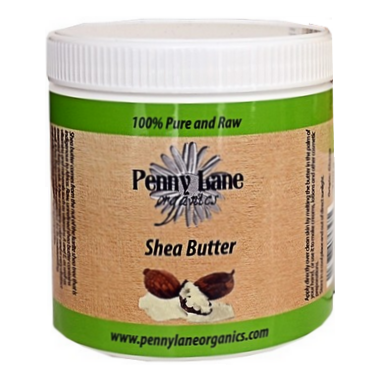 Description
This Penny Lane Organics Shea Butter is pure, natural, raw, traditional & hand-made!
Shea butter is a natural slightly yellowish or ivory colored and nutty, smoky scented natural fat extracted from the seed of the African shea tree. It is often referred to by its French name as karite tree, which originally (ghariti) means the tree of life. The tree got this name due to its exceptional healing properties. This raw shea butter is made in a traditional way by Wali women and children from northern Ghana. Shea nuts are collected, cleaned, washed and cracked by hand before being ground to make butter.
Pure raw shea butter is also edible and has been used for centuries in Africa as cooking oil, as a waterproofing wax, for hairdressing, for candle-making, as an anti-inflammatory for sprains and arthritis and to sooth dry and cracked skin.
Shea butter has superior moisturizing properties and is often used to by those that suffer from:
eczema
dermatitis
stretch marks
dry skin and hair
insect bites
psoriasis
acne
cracked skin
itchy skin
muscle fatigue and tension
rheumatism
arthritis
sunburns
skin allergies and rashes
scars and dark spots
skin blemishes
wrinkles
Directions:
Use shea butter as a massage oil, as a moisturizer after the shower or instead of a shaving cream. Simply take a small piece of butter and let it melt between the palms of your hands and then spread over the skin or hair roots. Safe to use on children and pets too.
If using Mango butter to make cosmetics - when adding butters to creams and lotions, it might be necessary to gently warm them until the texture can be incorporated into the final product. Using a hand blender, create a vortex with your cream or lotion and drizzle your melted butter to fully incorporate. For addition in soaps, the general rule of thumb is 1 tablespoon per pound. As with most raw materials, results may vary, so we strongly recommend small, lab scale batches prior to any commercial manufacturing.
Highlights