Persil ProClean Liquid Laundry Detergent
Original
1.18L (25 Loads)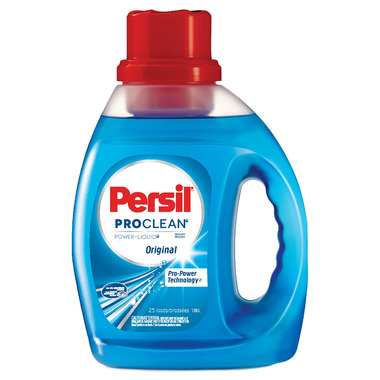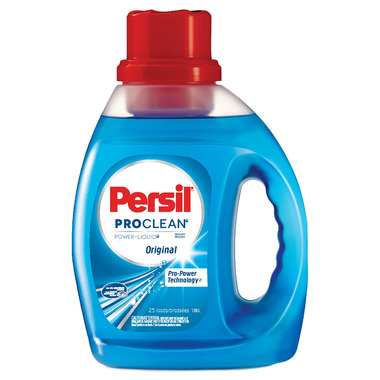 Persil ProClean Liquid Laundry Detergent
Original
1.18L (25 Loads)
Persil ProClean Liquid Laundry Detergent is packed with Pro-Power™ Technology to help remove tough stains for an exceptional clean. Experience premium clean with the stain-fighting power of Persil Power-Liquid detergent.
Features:
Powerful stain-fighting combination for a premium clean
Loaded with stain fighters
Low suds, clean rinse formula
Great for everyday laundry and to help fight tough stains
Measuring:
For regular loads, fill cap to line 2 (46 mL). Use more for heavily soiled or large loads.
Ingredients:
Water, Alcohol Ethoxy Sulfate, Alcohol Ethoxylate, Alkylbenzene Sulfonate, Sodium Citrate, Sodium Soap, Ethoxylated Polyethyleneimine, Propylene Glycol, Protease, Tetrasodium Edta, Sodium Borate, Fragrance, Ethanol, Amylase, Sodium Formate, Mannanase, Cellulase, Disodium Distyryl Biphenyl Disulfonate, Polydimethylsiloxane, Blue Dye, Lilial, 3-Methyl-4-(2,6,6-Trimethyl-2-Cyclohexene-1-Yl)-3-Buten-2-One, Amyl Cinnamal, Benzyl Salicylate, D-Limonene, Eugenol, Geraniol, Hexylcinnamaldehyde, Linalool
A:
a few months ago
This is by far the best laundry detergent I've used. It cleans incredibly well and has a nice fresh scent. With other popular laundry detergents, things like residue from deodorant in t-shirts often stick around after a wash, but Persil really gets all of that out. I can't stand using other brands now. I can't seem to find Persil in local stores anymore for some reason, so I'm so happy they still offer it on Well.ca.
Page
1