PiperWai
PiperWai Activated Charcoal Natural Deodorant Stick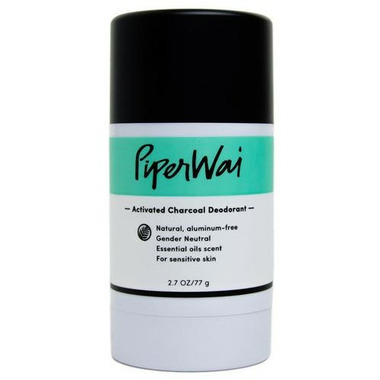 PiperWai
PiperWai Activated Charcoal Natural Deodorant Stick
Works Naturally
77 g
PiperWai Activated Charcoal Natural Deodorant Stick
is rated out of
5
by
45
.
---
Description
PiperWai is the first naturally powerful, aluminum-free deodorant that uses activated charcoal to absorb wetness and fight odor. 100% Natural ingredients like organic coconut oil, shea butter, and pure vitamin E soothe even the most sensitive skin, and form an invisible, absorbent, pH-balanced shield on your underarms that neutralizes odor. This stain-free formula rubs in clear and won't discolor your clothes. And it's perfect for use on sensitive skin.
Now in a stick applicator that glides on smooth and its odor-neutralizing capabilities are the same quality you'd expect from PiperWai. Also, you get 35% more product than the jar!
Why Activated Charcoal?
Absorbs 1000 times its own weight in moisture
Neutralizes odor naturally
Draws toxins out through your skin
Smells like a spa
Gentle on sensitive skin, especially after right shaving!

Due to the amazing properties of Charcoal most people transition seamlessly from their clinical strength antiperspirant to PiperWai. No detox period necessary!
PiperWai has a light, gender-neutral, spa-fresh scent. It's a bit minty, a bit citrusy, and not overwhelming. It's truly a one-scent-fits-all! Since PiperWai neutralizes odor, the scent will dissipate throughout the day so you smell like nothing at all. The stick and the jar smell the same.
To use:
Rub into underarms until completely clear, covering the entire area. Apply as needed to clean, dry skin. Reapply after bathing or exercise.
Ingredients
: Cocos nucifera (Coconut) Oil, Tapioca Starch (Non GMO), Euphorbia cerifera (Candelilla) Wax, Butyrospermum parkii (Shea) Butter, Stearyl alcohol, Sodium bicarbonate (aluminum-free), D-alpha Tocopheryl acetate, Magnesium hydroxide, Activated Charcoal, Mentha piperita (Peppermint) Oil, Eucalyptus radiata Leaf/Stem Oil, Citrus reticulata (Tangerine) Leaf Oil, Citrus aurantium bergamia (Bergamot) Peel Oil, Salvia sclarea (Clary) Oil, Cymbopogon citratus (Lemongrass) Leaf Oil, Melaleuca alternifolia (Tea Tree) Leaf Oil, Thymus vulgaris (Thyme) Oil, Eugenia caryophyllus (Clove) Leaf Oil, Lavendula augustifolia (Lavender) Oil, Rosmarinus officinalis (Rosemary) Leaf Oil
For External Use Only. Do not use if you have allergies to the listed ingredients or essential oils.Natural, Aluminum-free, Cruelty-Free, Recyclable, Gender-neutral, Featured on Shark Tank

Highlights

Rated

3

out of

5
by
Jamie
from
I was also disappointed with this stick form. I absolutely love the glass jar formula and have recommended it to all of my friends and family, so when the stick version came out I was so excited. But unfortunately the smell is different/stronger (more pepper-like after smell) and lingers on your skin and clothes. It is also a slightly stickier formula and doesn't work as well for me for keeping wetness away. It's ok with stopping smell, but not as good as original version. I still use the stick if I'm in a big rush, but won't be purchasing it again. Don't get discouraged if this is the first one you try. Get the glass jar version! It really is amazing stuff!
Date published: 2018-03-26
Rated

3

out of

5
by
Kelly
from
I have used various natural deodorants over the years and have always gone back to antiperspirants as they never kept me dry enough. I was excited to try this product. It goes on "wet" but the first two days I was in love, I could run my fingers under my arms and they were dry! But then I guess my body adjusted somehow (it also got hotter) and I find my under arms feel wet most of the time. I love the smell and feel it controls the bad smell issues way better than any other deodorant. I also love that it's in a stick. I will keep using it in the hopes that it will work better. Maybe I will only be able to use it in the winter, could just be how my body sweats.
Date published: 2018-05-31
Rated

3

out of

5
by
Cara
from
First time buying a natural deodorant. Love the scent, not overwhelming. Definitely keeps odors away. Does leave a bit of film on clothing, but I could be over applying (washes out with laundry). Feels weird at first application, having dampish under arms until product dries. At that price, though, hoping product lasts long enough & not like regular deodorant (several per year). I purchased the stick, but would like to try the other next time. Also, purchased this product this winter. Curious to see how it stands up in the heat of summer!
Date published: 2018-04-02
Rated

1

out of

5
by
veganmom
from
Didn't work at all for me and very messy
I bought this deodorant in my quest to find a natural deodorant that actually works and I was sadly disappointed. It did not work at all for me. It not only didn't help with the amount of sweat, but only masked odour for a short time, which is surprising considering the strong smell of this deodorant. It wore off quickly and was a big mess after a few applications. It left chunks of product over my underarms from just one or two swipes and started to make a mess all over the container. Considering the price of this product, I was very disappointed. I ended up throwing it out after many attempts of using it and hoping it would get better. Thankfully I have since found natural products that work very well, this just isn't one of them unfortunately!
Date published: 2021-10-14
Rated

1

out of

5
by
Jennifer
from
I was excited when the stick was introduced but so disappointed in the way it felt going on -sandy- the way it performed; it was not effective for odor protection and it would not roll up. I also absolutely love the glass jar formula and highly recommend it to all of my friends and family. I have been using the jar for over two years now and will continue to purchase the jar version. LOVE IT.
Date published: 2018-07-20
Rated

2

out of

5
by
Sonia
from
I used to use the piper wai deodorant that was in a jar but now that there is an easier to use stick form I thought to try that out. Unfortunately after I used about 3/4 of the product, the stick broke by getting stuck to the top of the cap. Hard to explain but basically it is now useless. I will not purchase again and will go back to using the jar version.
Date published: 2019-10-07
Rated

4

out of

5
by
Dawn
from
I ordered 3 of these deodorants because i know it takes the body time to detox off the other deodorants. I love the smell BUT i do sweat a lot. I find i have to apply more than once during the day. I would recommend this product and remember that your body needs to detox and don't use after shaving for a few hours!!! This product is pretty awesome
Date published: 2018-06-12
Rated

2

out of

5
by
Harlene
from
Put on a decent amount at 9am and started to smell around 6pm. It was a hot (+29) day with regular activity indoors and outdoors. Points for texture and smell and how well it held up through the morning but still not as good at my baking soda based fave brand. I shiuld also mention that I have been off conventional deodorants for 10+ years.
Date published: 2018-09-22