Playtex Nurser Drop-Ins Liners
236-300 mL (8-10 oz)
100 Liners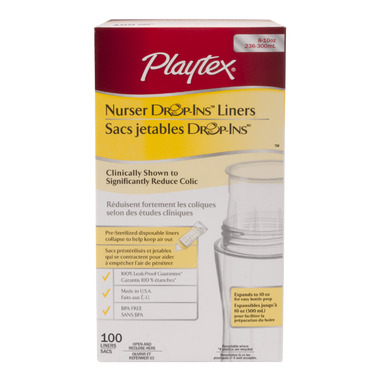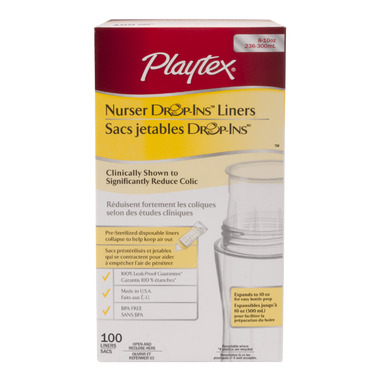 Playtex Nurser Drop-Ins Liners
236-300 mL (8-10 oz)
100 Liners
Playtex Drop-Ins Liners contract like the breast, preventing air from entering the system, so you can see baby gets just milk — no air. Bottle preparation is easy. Just place a pre-sterilized liner into the bottle and fill, and then spend more quality time with baby. And it doesn't hurt that cleanup is easy, too!

Playtex Drop-Ins Liners Features:
Liner collapses as baby drinks so no air gets in the liquid or in baby's tummy
Clinically shown to mimic breastfeeding
Ensures a fresh, pre-sterilized bottle at every feeding
Leak-proof
Lesley:
more than a year ago
I am a big fan of the Playtex liner system. It's easy and clean. The drops ins are great because you don't have to worry about it slipping out the end of the bottle like you do the older style. That all being said, I find that I'm not a huge fan of the expandable feature of these liners because they don't give you an accurate reading of the liquid you are putting in your formula. This can make your baby very sick. To remedy this, we use a measuring cup to measure out the liquid before adding it to the liner. So say we are measuring out 8oz of liquid, sometimes the liner expands properly and it says 8oz, sometimes it looks like 9oz and other times it looks like 7oz. It's definitely a flaw in the product's design. We're going to keep using them because we don't mind measuring first, but I hope they fix the problem.
Page
1