Poise Impressa Bladder Supports Sizing Kit
Size 1, Size 2, Size 3
6 Count, 2 of each size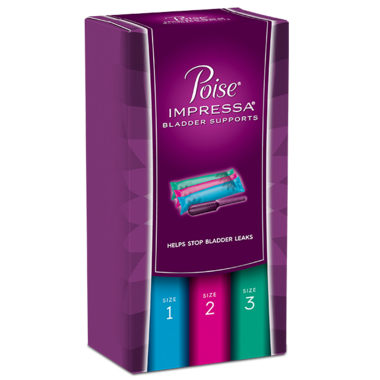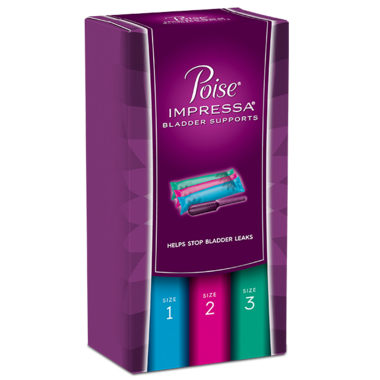 Poise Impressa Bladder Supports Sizing Kit
Size 1, Size 2, Size 3
6 Count, 2 of each size
Designed for the temporary management of Stress Urinary Incontinence (SUI) in women, Poise Impressa Bladder Supports are a revolutionary new non-absorbent, removable internal product that help stop bladder leaks before they happen. If you leak when you laugh, cough, sneeze, or dance, Impressa Bladder Supports are for you! Safe, effective and easy to use, Impressa is available in three different sizes to adapt to your unique internal shape.
The first step is to use this Poise Impressa Sizing Kit, created to help you quickly find your most effective and comfortable internal fit (Size 1, Size 2, or Size 3). Once you've found your correct size, Poise Impressa bladder supports are available in Size 1 (10ct), Size 2 (10ct), and Size 3 (10ct). The first over-the-counter internal product cleared by Health Canada, Impressa Bladder Supports are inserted like a tampon to gently lift and give support to the urethra. Stopping your incontinence and bladder leaks starts with Impressa Bladder Supports.
Features:
Non-absorbent, internal product designed to help stop Stress Urinary Incontinence bladder leaks for up to 8 hours. Health Canada cleared and gynecologist tested, use the Sizing Kit, with 2 of each size, to find the bladder support that works best for you.
Poise Impressa Bladder Supports are NOT liners, pads or a tampon. Impressa Bladder Supports are the first over-the-counter, non-absorbent internal incontinence product in the Canada. Cleared by Health Canada and gynecologist tested to help prevent leaks
Impressa Bladder Supports are non-surgical and easily inserted into the vagina, like a tampon, to gently lift and support the urethra for the temporary management of stress incontinence
For those with Stress Urinary Incontinence who leak from laughing, sneezing, coughing, dancing and excercising. Can be worn for up to 8 hours in a 24-hour period
Bladder supports are an alternative product to incontinence liners and incontinence pads.

Poise Impressa are soft, flexible and disposable.
Please note: There is the possibility of receiving varied packaging. Rest assured, the product inside is the same.