Polident
Polident 3 Minute Daily Denture Cleanser
Triple Mint Fresh 40 Tablets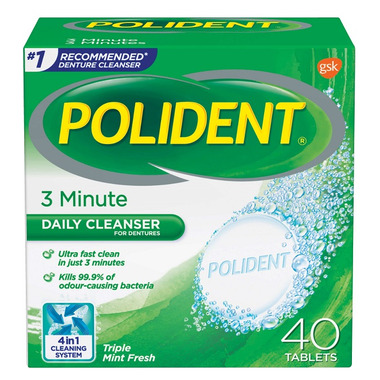 Polident
Polident 3 Minute Daily Denture Cleanser
Triple Mint Fresh
40 Tablets
---
Description
Polident 3 Minute Daily Denture Cleanser kills 99.9% of odour-causing bacteria and helps remove tough stains and reduce plaque, leaving your dentures cleaner, fresher and brighter every day. Unlike some toothpaste, the tablets have a non-abrasive formula, so they clean without scratching and leave fewer places for unwanted bacteria and other microorganisms to grow.
Features:
Deep cleans in 3 minutes - their fastest formula
Kills 99.9% of odour-causing bacteria.
When used as directed, helps to reduce plaque and also removes tough stains to restore whiteness.
Gentle on denture material.
Directions:
Place dentures in a denture bath or suitable container. Add very warm water (not hot) to cover denture(s).
Drop one Polident® tablet into the water. Soak in solution for 3 MINUTESϮ. For best results, brush denture(s) with Polident solution after soaking, using a soft brush. Discard remaining solution immediately after use.
Thoroughly rinse denture(s) under running water for one minute before inserting into mouth.
ϮPolident® 3 minute MicroClean® Formula preparation kills 99.9% of odour-causing bacteria in 3 minutes. For best results, soak for 5 minutes.
Ingredients:
(alpha) cellulose gum, citric acid, FD&C blue #1 Al. lake, FD&C blue #2, FD&C yellow #5, FD&C yellow #5 Al. lake, flavour, polyethylene glycol, potassium monopersulfate, sodium benzoate, sodium bicarbonate, sodium carbonate, sodium lauryl sulfate, sodium percarbonate, tetraacetylethylenediamine, VP/VA copolymer.
Warning:
Do not place tablet or solution in mouth. Do not drink cleansing solution or use it as a mouthwash. Keep tablets out of reach of children and those who are at risk of accidentally swallowing the tablet or solution. Do not touch mouth or eyes after handling tablets or solution. Wash hands thoroughly after handling tablet or solution. Can cause serious eye irritation. IF IN EYES: Rinse cautiously with water for several minutes. If eye irritation persists: Get medical advice/attention. Do not use if you are sensitive to any of the ingredients. May produce allergic reaction and/or serious burns if misused. If you experience irritation due to cleanser use, discontinue and consult a healthcare professional. External use only. Not for natural teeth or in-mouth use. If SWALLOWED do not induce vomiting: Call a poison control centre or doctor/physician immediately.