Potting Shed Creations Dawn Redwood Forest Bonsai Box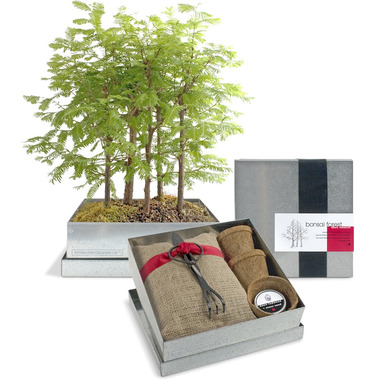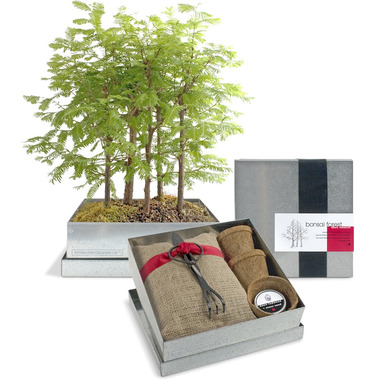 Potting Shed Creations Dawn Redwood Forest Bonsai Box
Elegantly understated, the bonsai collection pairs clean lines and industrial materials with the ancient art of miniature gardening.The contemporary design maintains a traditional awareness to complement a variety of both indoor and outdoor spaces. The kit includes everything needed to grow and sculpt a tree into a work of living art. Growing bonsai from seed gives complete control over the styling of the tree and allows for the enjoyment of each stage of the tree's growth. This bonsai specimen has a fast growth rate, allowing the owner to create beautiful authentic bonsai trees and landscapes in no time.
Dawn Redwood | An ancient tree related to the coastal redwoods of California, Dawn redwood was once thought to be extinct. In the 1940's it was re-discovered growing in a remote region of central China. What makes the Dawn redwood truly special is that it is a deciduous coniferous tree. Meaning, in the autumn, the light green foliage turns yellow, then bronze and finally, like leaves, drop off as a normal part of growth. The only other coniferous trees to do this are the Larch, the Tamarak and the Bald Cypress.
Includes:
recycled US steel box, tree and moss seed, OMRI listed soil, seedling training pots, bonsai scissors, rake with spade, river stone and growing directions.
Box Measures:
3.25" H x 9.5" Square