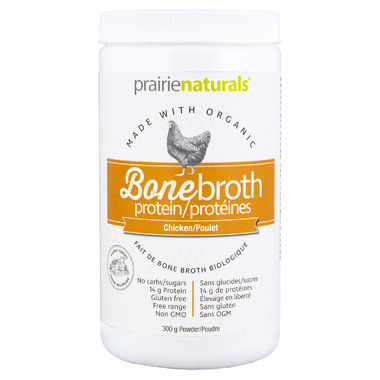 Description
Prairie Naturals Organic Chicken Bone Broth is made from the bones and connective tissue of organic Chicken. Bone Broth is a rich source of collagen protein, amino acids, minerals and connective tissue building nutrients. This easy to digest, gut friendly protein can be used to make convenient on-the-go bone broth.
Suggested Use:
Add one scoop (15 g) Organic, Chicken Bone Broth Protein to 200-250 mL warm/hot water, soup or other hot beverage; add to 200-250 mL cold water, juice, or smoothie and flavour as desired; blend into sauces, gravy or other dishes to give a protein boost.
Due to the naturally occurring variances in nature, the colour and texture of our Organic Chicken Bone broth ma vary. It is flavourless & odourless; mixes easily with a smooth texture.

Highlights

Features
Dairy Free
Non- GMO
Paleo Friendly

Gluten Free
Antibiotic-free, non-allergenic with no MSG or preservatives
Ingredients
Organic, Free Range Chicken Bone Broth Protein Powder