Precision Supplements Tribulus Stack
Precision Supplements Tribulus Stack is a ​Hi-Potency Tribulus Formula with complementary support nutrients.
Features:
Increases total free testosterone
Suppresses estrogen production and prevents aromatization
Reduces DHT production to prevent acne, hair loss, gynecomastia and other testosterone related side effects
Improves strength & stamina
Stack with D-Aspartic Acid for even better results
Key Ingredients:
Tribulus, Nettle Leaf, and Fenugreek Extract – This unique combination of proven ingredients will naturally stimulate your body's testosterone production, in order to maximize your gains and increase your strength and stamina.
Red Ginseng – Assists in recovery from exercise (or any other stress), increases energy levels and improves mood.
Avena Sativa – Works to free up bound testosterone that's stuck to other compounds in your body, rather than just increasing overall testosterone levels. It essentially makes available testosterone more efficient.
Chrysin – supports the suppression of estrogen production and the prevention of testosterone converting into estrogen. Chrysin helps to fight aromatization – the subsequent production of estrogen after a rise in testosterone.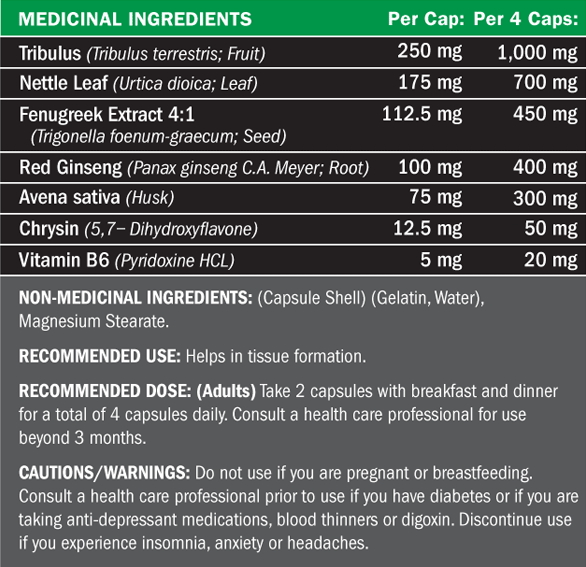 Attention Athletes: Precision Tribulus Stack is manufactured in a cGMP compliant facility that is completely free of banned substances, eliminating any concern of cross-contamination.